Slow news day today – any ideas?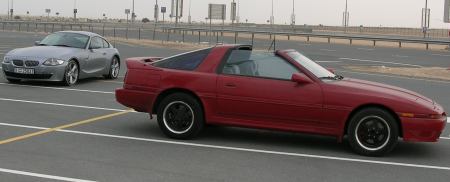 So I just saw my parents off at the airport for their Hajj flight. I had half a mind to go too, but I have too much work both online and offline to take any trips right now. I am going to start a massive new project for this website that should help out a lot of car-buying people. But I wanted your input on what additional features you'd also like to see on DriveArabia.
My massive new "project" will take many months to complete, so I'll announce much later what it is. It's not a site redesign, mind you, since I don't have the time to do that properly without ruining the current site. I am a car critic first, with an electrical engineering degree, and this basic web-programming nonsense is among the million other things I do on the side. This month, time will be spent more on starting up this new "project" and updating the new car guide instead of reviews of new cars.
We'll also be selling off our benchmark modified '87 Supra Twin Turbo soon. It is time to upgrade to something sporty that needs less time for care but is equally dirt-cheap. Before I let it go, I'll do a final review of it. I am still keeping the strong '02 Jeep V8 and the indestructible '90 Merc as benchmarks for 4WDs and sedans respectively. I like having benchmark cars around to compare other cars with so that I don't write empty reviews like all those other family-car-driving "journalists" who are simply happy to get free new cars.
So if you guys would like to share your ideas on how to improve the website, write your views in the comments section below or send me an email. No guarantees though on any improvements being implemented soon, since I still do all the website work myself, but I'll keep the good ideas in mind.