Comparo: Honda Accord V6 vs Jaguar XF V8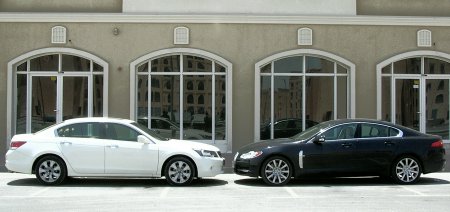 Okay, so it is impossible to compare a Honda Accord V6 with a Jaguar XF V8. But both are midsize sedans, both are redefining their genres and both happened to be parked under my place at the same time. So why not?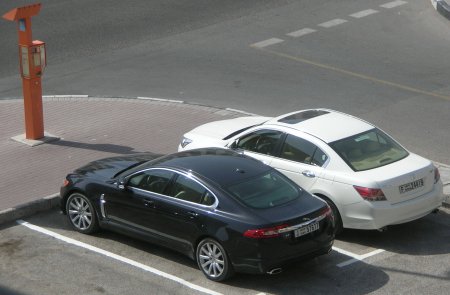 The two midsizers both have bits of exterior chrome, alloy wheels and…that's about it as far as similarities go. Our front-wheel-drive Accord has a 270 hp 3.5-litre V6 and a 5-speed auto, while our rear-wheel-drive Jaguar XF has a 298 hp 4.2-litre V8 and a 6-speed auto with manual functionality. The hot Jag also costs twice as much as the cold Honda.
Both seem to be about the same in length, but while the Jag has about as much space inside as a large compact car, the Honda breaks all barriers in its segment, feeling like a fullsize car inside. Of course, the Jag's clean interior and high-tech gadgetry destroys the Honda's basic cabin. While the XF's features impress with hideway air vents, rotary-dial shifter, touch-sensitive buttons, leather dashboard and a nav system, the Accord doesn't even have a trip computer to calculate fuel mileage.
Arguably, the Honda Accord is the best-handling front-wheel-drive family sedan we've ever driven, with an excellent combination of comfort and handling. It has limited body roll, good grip and can even be manipulated to reduce understeer at speed. It doesn't have a true manual-shifting feature, but the gearbox does well on its own. It is so good that some "respected" journalists have even called it a "sports" sedan.
But then I drove the Jaguar XF. It obliterates the Accord around corners, and easily gives BMW a run for its money. The wide low-profile tyres offer much more grip than the Accord's rubber, and can easily outrun machinery such as the Bentley Continental GT Speed. The tiptronic paddle-shifting feature responds instantaneously and is the best automanual system I've ever seen. Flat around corners, lack of understeer, and firm-but-compliant ride round off an excellent package.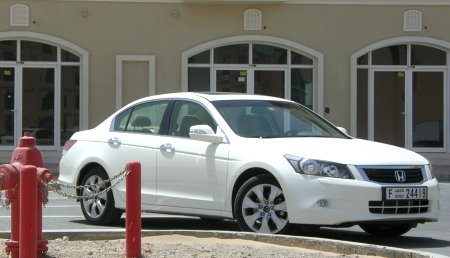 But, the win for the best engine goes to the Accord. While it lacks mid-range torque, it takes off quickly, responds instantly to throttle inputs, and has oodles of power at high revs. I also had a hard time trying to empty the petrol tank, because its invisibly-acting cylinder deactivation feature turns off 2 or 3 cylinders most of the time during constant-speed cruising. The car can go for days without filling up, which is a feat for any V6 car. It falls behind by only 0.6 seconds against the XF in our 0-to-100 kph runs.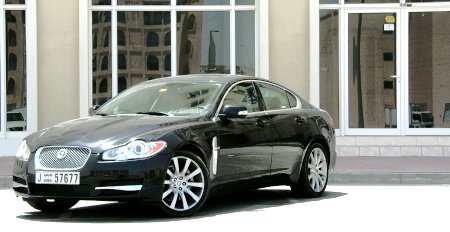 In contrast, the XF's aging V8 acted so wimpy initially that I thought I was driving an underpowered V6 version. The non-supercharged V8 offers only 28 more horses over the Accord motor, and guzzles more fuel than my Jeep's V8. The gearbox also likes to stay in higher gears, and hardly downshifts when stomped. I then realised that switching to sport mode transforms the car, offering considerably better response and a much better driving experience. Even more fun is driving in the excellent manual mode, but all this hurts fuel economy.
As I mentioned earlier, both cars redefine their respective genres. The Accord offers class-leading space and fuel economy in the front-driven midsize category, while the XF introduces never-before-seen gadgetry and a sporting drive to the crowded entry-luxury-sports category. Both deserve to be the sold-out sales successes that they've already become.