Mercedes-Benz McLaren SLR Stirling Moss unveiled

To give the soon-to-be-discontinued SLR McLaren a fine send-off, Mercedes-Benz has introduced a new variant of the supercar, with an overly long name. The Mercedes-Benz McLaren SLR Sterling Moss will debut at the 2009 Detroit Auto Show. The car bears the name of British racing legend and Mille Miglia record-holder Stirling Moss, who drove the original Mercedes-Benz SLR racing cars from victory to victory during the 1950s.
The SLR Sterling Moss has neither a roof nor a windscreen, apparently to 'enjoy unadulterated high-speed excitement with all the attributes of a speedster.' It basically means you have to wear a full-face helmet all the time. There are just two wind deflectors a couple of centimetres in height to protect the driver and passenger from the airflow. Two air scoops integrated into the bodywork serve as roll-over bars. The doors swing open upwards. The vehicle can be closed by two tonneau covers which are carried in the boot. An 'airbrake' flap spoiler deploys during hard braking.
In keeping with the puristic exterior of the vehicle, the interior is also reduced to the bare essentials. A mixture of materials such as carbon-fibre, aluminium and leather cover the cabin. An aluminium plate carries the engraved signature of Stirling Moss and covers the area around the shift lever.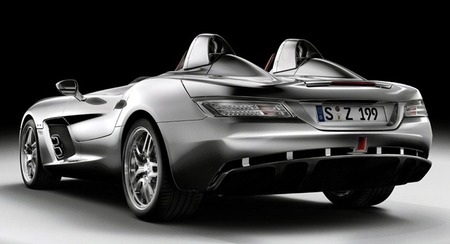 The standard engine is a 650 hp 5.5-litre supercharged V8 supercharged engine, good for a zero to 100 kph run in less than 3.5 seconds, and a top speed of 350 kph.
The exclusive SLR Stirling Moss rounds off the current SLR family and is limited to 75 units. It is priced at 750,000 euros. The standard SLR Roadster will cease to be manufactured at the end of May 2009 as planned, and production of the SLR Stirling Moss will commence in June 2009. Only current McLaren SLR owners will be allowed to buy one. So expect a whole bunch of these on the streets of Dubai, even though they are supposed to be track cars.