2010 Nissan Patrol spy shots leaked

Update: I've been sent a threatening letter by lawyers representing the research company that held the event leading to the leak, just for this post that never showed the real photos. Therefore, I am being forced to remove references to the spy shots. The funny thing is, if they just asked nicely instead of using threats, I would've made this 4WD the biggest secret in the country.
I am aware that there are spy shots of the fully-exposed 2010 Nissan Patrol floating around on the net. The local media has been barred from republishing these photos by Nissan Middle East, with the threat of them cutting off all ties with us. Nissan neither advertises with us, nor do they prioritise us for press vehicles, but we are abiding by their request to not republish the photos here.
According to Nissan, the photos were secretly taken at a Nissan-hosted consumer clinic in a hotel, most likely in Dubai or somewhere in the GCC. These 'clinics' are sometimes held to collect the views of random people (or previous owners) on upcoming designs, before the full launch of a product.
The styling will be vaguely based on the Nissan Terranaut concept above, shown at auto shows in 2006. Speculation suggests that the 265 hp 4.0-litre V6 and the 340 hp 5.6-litre V8, already available in other Nissan SUVs, will be the likely engine choices.
The photos have been republished on various other American automotive sites. Below is a computer-generated reconstruction of how the 2010 Nissan patrol may look.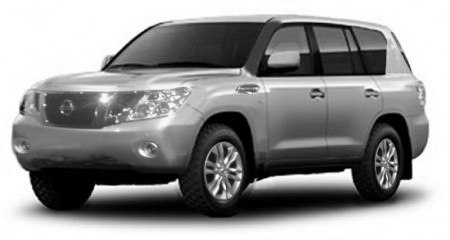 For local prices, specs and fuel economy figures on the latest models, visit the Nissan Patrol buyer guide.