2010 Hyundai Equus revealed in Korea

The 2010 Hyundai Equus supersized luxury sedan has been previewed in Korea, with early photos revealed on the web. Hyundai also says that plans are underway to see if the Equus will be sold in international markets.
The rear-wheel-drive Equus apparently boasts 52:48 front-rear weight distribution, LED rear lamps, air suspension, electric parking brake, adaptive cruise control, nine airbags, front-rear cameras, adaptive HID headlights, 17-speaker stereo with Bluetooth, a selection of hardwood trims, additional aluminium trim, and real leather.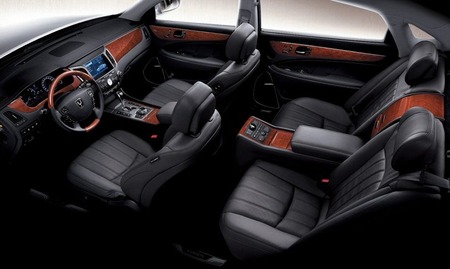 Power comes from a 'Lambda' 290 hp 3.8-litre V6 and a 'Tau' 366 hp 4.6-litre V8, both with 6-speed automatic transmissions. There is no news of a larger engine option yet. The V6 model gets a horizontally-slatted grille, while the V8 gets a vertically-slatted grille.
If Hyundai chooses to sell the Equus internationally, it will be done in 2011 or 2012 at the latest.