So we got an offroad-ready Hummer H3T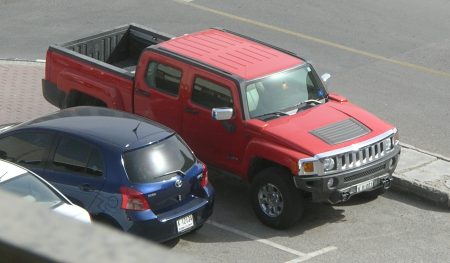 Apparently we are among the first people to test-drive the Hummer H3T in the UAE. I drove it all over Dubai on the first morning, which involved embarrassing parallel parking incidents. Anyway, I had decided to do a proper off-road test on another day, and handed over the truck to my PR guy. He promptly returned it to me the next day, with a broken alloy wheel, a sandy interior, and a number of disabled electronics. Never let amateurs go camping with your 4X4.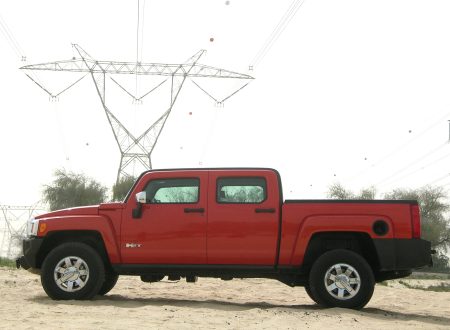 I cannot blame the H3T at all, considering I don't know what caused the cracked wheel, while my dimwitted PR guy removed fuses in some convoluted attempt to turn off the auto-delay interior lights.
Later, I met up with my other buddy, who is a practising safari driver, and took the H3T for a real offroad jaunt. Considering the weezy inline-5 engine and the titanic wheelbase, it actually did rather well.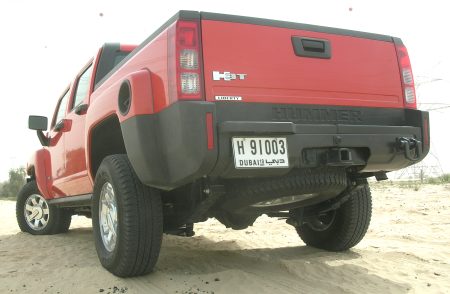 But first, we took a look at the smaller details of what is essentially a true pickup truck with a separate cargo bed held up by leaf-sprung rear suspension.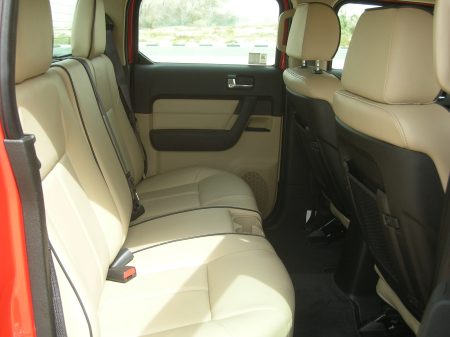 The H3T is a good deal longer than an H3, harder to park and has a large turning circle. Rear legroom is about average for a midsize SUV, but the rear seatback is too upright due to the pickup setup. The rear cup-holders are built into the seat-bottom. Most of the cabin is made up of hard plastics, with some leather bits. And a reverse camera is helpful, but not by much, when parallel-parking, as there are no beeping sensors. All the usual power accessories are included.
Outside, we just noticed that the characteristic bonnet "vents" are not really vents. Our tester also didn't come with side-steps, making it harder to climb in, but made the H3T a better offroader. And the cargo area is truly massive, although the step-on height is too high and our tester did not come with a bed cover.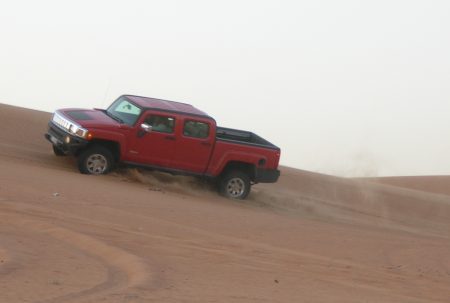 As we said, it performed reasonably well in the desert. The engine was more strained than most V6-powered 4WDs, but the H3T kept moving and did not ever feel like it would get stuck, thanks to beefy offroad-capable tyres and short overhangs.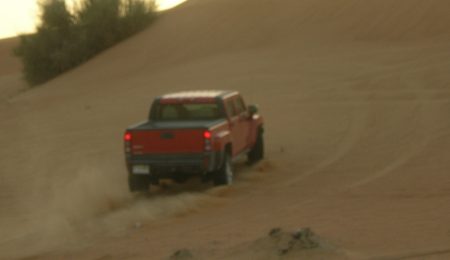 We didn't take too many risks out on the dunes, considering we were already running on the spare tyre, but on one peak, the underbelly did touch the ground. Of course, the long H3T is fortified with metal skid-plates underneath.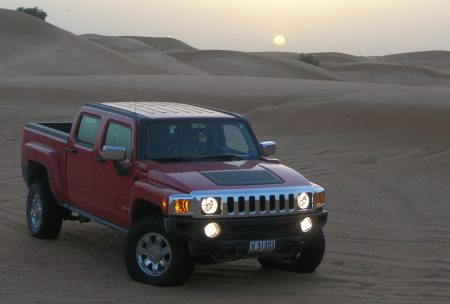 The H3T was created specifically for people who venture into the desert with dirt-bikes on the bed and what not, so we'd say it would fulfill that purpose well. We will talk about this truck more in the full upcoming review, but let's just say that this is not the Hummer variant you'd want if all you are looking for is a mall-hopper with style.