IIHS starts crash-testing SUV roof strength

The respected American Insurance Institute for Highway Safety (IIHS) has launched a new roof strength rating system to help consumers pick vehicles that will help protect them in rollover crashes. Twelve small SUVs were the first to be put to the test. Only 4 earn the top rating of good. The Subaru Forester and even the Jeep Patriot, among others, have the strongest rated roofs, while the Kia Sportage has the weakest among the 2008-2009 models evaluated. A report like may be enough reason for some consumers to keep shunning Korean cars. But the Honda CR-V and the Ford Escape only did slightly better.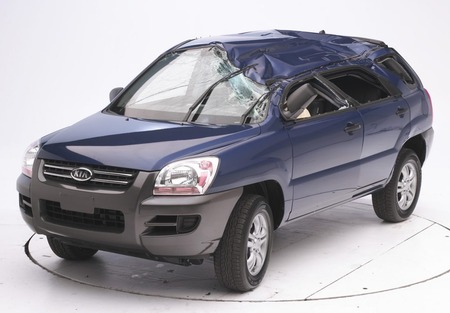 This new rating system is based on Institute research showing that occupants in rollover crashes benefit from stronger roofs. Vehicles rated good must have roofs that are more than twice as strong as minimum federal safety standards require. The VW Tiguan, Subaru Forester, Honda Element, and Jeep Patriot earn good ratings. The Suzuki Grand Vitara, Chevrolet Equinox, Toyota RAV4, Nissan Rogue, and Mitsubishi Outlander are rated acceptable. Roofs on the Honda CR-V and Ford Escape are marginal, and the Kia's is poor.
Institute research indicates that roofs have gotten stronger during the past few years. Part of the reason is that manufacturers have made structural improvements to earn better front and side ratings in Institute crash tests. Strong A and B pillars help prevent intrusion in these types of crashes and also help hold up the roof.

More than 10,000 people a year are killed in rollovers in America. When vehicles roll, their roofs hit the ground, deform, and crush. Stronger roofs crush less, reducing the risk that people will be injured by contact with the roof itself. Stronger roofs also can prevent occupants, especially those who aren't using safety belts, from being ejected through windows, windshields, or doors that have broken or opened because the roof has deformed. Roofs that don't collapse help keep people inside vehicles as they roll.

Any vehicle can roll over in a crash, but the problem is worse in some kinds of vehicles than others. About 25 percent of occupant deaths in crashes of cars and minivans involve rolling over. For SUVs, this proportion jumps to 59 percent.

The best way to prevent the deaths is to keep vehicles from rolling over in the first place. Electronic stability control is significantly reducing rollovers, especially fatal single-vehicle ones. When vehicles do roll, side curtain airbags help protect the people inside. Belt use is essential.

In the Institute's roof strength test, a metal plate is pushed against 1 side of a roof at a constant speed. To earn a good rating, the roof must withstand a force of 4 times the vehicle's weight before reaching 5 inches of crush. This is called a strength-to-weight ratio. For an acceptable rating, the minimum required strength-to-weight ratio is 3.25. A marginal rating value is 2.5. Anything lower than that is poor.

The ratings depend on vehicle weight, which in turn depends on vehicle options like engine size and 2-wheel vs. 4-wheel drive. The Institute has based its ratings on the typical small SUV, which tends to be 4-wheel drive and comes with a 4-cylinder engine and automatic transmission. Heavier and lighter versions of these vehicles are available, and their actual rollover injury risk would vary by small amounts. The Institute's ratings provide an indication of the relative risk of similarly equipped vehicles.

The small SUVs that did well in the new test have roofs that are 2.5 to 3.5 times stronger than the minimum federal safety standard for roof strength. The National Highway Traffic Safety Administration has proposed a new standard but not as tough as the Institute recommends. The agency has argued that upgrading the requirements would have only a limited impact on rollover deaths and injuries. Institute research indicates otherwise.

Cars have been built to meet the same roof crush standard, Federal Motor Vehicle Safety Standard 216, since 1973. The rule was extended in 1994 to include all passenger vehicles up to a gross weight rating of 6,000 pounds. Many SUVs and pickups are heavier, so they're exempt. The National Highway Traffic Safety Administration in 2005 proposed an upgrade to cover these larger vehicles and require roofs on all passenger vehicles to have a strength-to-weight ratio of 2.5. Many vehicles already meet this ratio and would earn only a marginal rating in the Institute's new roof strength test. A final rule is still pending.