2010 Kia Sorento unveiled at Seoul Auto Show

The all-new 2010 Kia sorento was unveiled for its Korean home market, at the 2009 Seoul Auto Show. The existing 2009 Sorento is a truck-based offroad-capable midsize SUV that never sold well in major markets, including in the GCC. So Kia decided to turn it into a car-based "crossover" SUV instead.
The new Sorento is larger, and integrates Kia's latest corporate grille as the brand attempts yet again to create its own identity. Therefore it has a front-end similar to the new Cerato, and a rear end that mimics the Mohave.
Kia ditched the old truck-like body-on-frame structure and designed an all-new car-like monocoque bodyshell with room for seven occupants.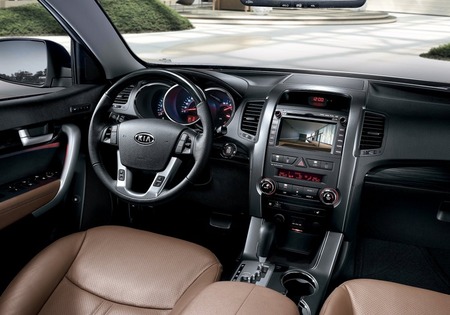 Cabin features include keyless entry, engine start button, reversing safety camera, built-in sat-nav and optional panoramic glass sunroof. The top model will be equipped with a six, eight or 10-speaker audio system, with MP3 and iPod connectivity, plus built-in or external amplifier and a new sat-nav system with a 6.5-inch screen.
Engines include a 172 hp 2.4-litre 4-cylinder with 225 Nm of torque at 3750 rpm, and a 273 hp 3.5-litre V6 with 335 Nm of torque at a high 5000 rpm. Both engines come with variable valve timing, and offered in either front-wheel-drive or all-wheel-drive form. Depending on engine, gearbox choices include a 5-speed manual or automatic, or a 6-speed automatic. four-wheel-disc brakes are standard, and wheel sizes vary from 16-inch to 18-inch alloys.
As with all GCC-spec Kia products, most safety features are optional rather than standard, including ABS, stability control, hill-start and a tyre-pressure monitor.
The Sorento should continue Kia's current adherence to excellent build-quality standards, and with the new engines choices, it should offer a very competitive product in the popular softroader segment, effectively handing over offroad duties to the Mohave. Expect the new model to quietly debut in Dubai and other UAE dealerships by the summer of 2009.
To keep track of local prices, engine specs and other details for the current model, visit the Kia Sorento buyer guide.