So I got a 2010 Ford Mustang GT

As a sports car, the 2010 Ford Mustang GT is a piece of bull crap. As a practical car, it is an even bigger piece of dinosaur dung. The big V8 engine makes V6 power, the suspension is a joke and the interior belongs in an economy car. But then, why did we like it so much?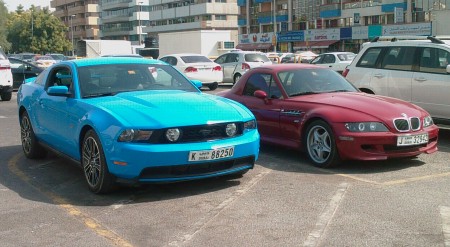 Indeed, the Mustang's claim to fame is its immense character. On the outside, it looks more expensive than it really is, as long as you don't look too closely at the panel gaps. And that paint job is eye-popping, enough to melt the lens of our camera phone. All the changes for 2010 — including the new front and rear ends, the raised shoulders, the bonnet bulge, the cool rims and the rear lip spoiler — give the sizeable car even more street presence than ever before.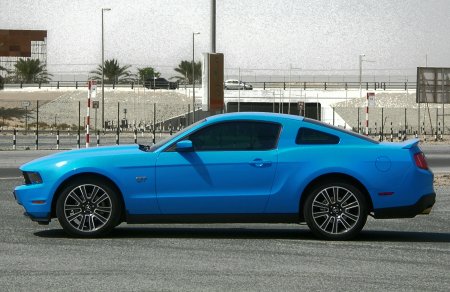 About the most memorable feature of the car were the disco-dancing tail indicator lamps. When indicating left or right, each of the red blocks light up in succession instead of all together. Even though we could not see them while driving, we used the indicators much more than needed, just to put up a light show for people behind us. It could be a good gimmick to make dimwits use their indicators more.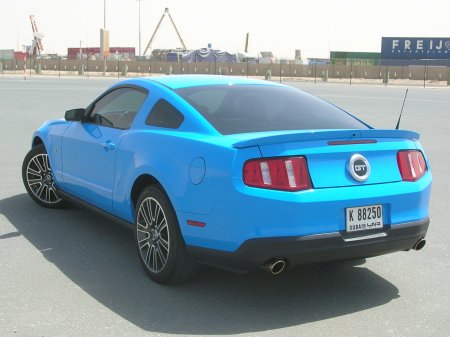 A camera is integrated into the tasteful rear spoiler that cuts out half the view out the back window anyway. The lower black plastic trim is also tastefully done, without looking cheap.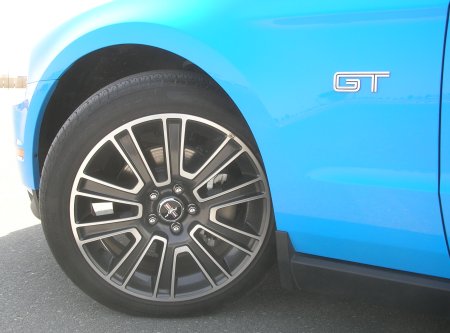 The combination of clean shapes and smoked 19-inch alloys make for naturally-aggressive styling, although we believe the brakes behind the rims should've been bigger.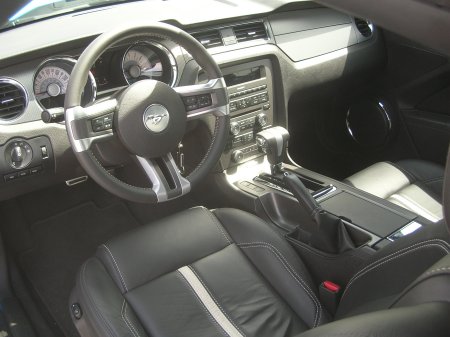 The interior is a massive improvement over the outgoing one, with a soft-touch dashboard and real metal trim, although bits of the old Ford remain. The upper door panels are hard plastic, and some trim pieces can be moved with one finger. It would seem that Ford's solid new-found quality standards are reserved for their sedans. Or our test car was just beaten up a lot.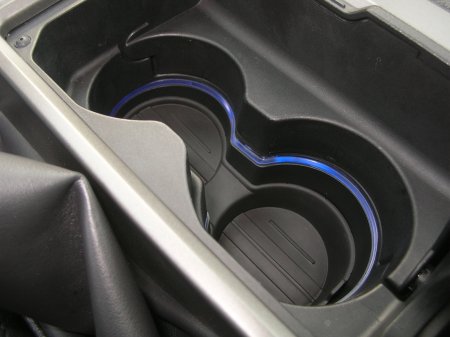 The cup-holders are great, with some mood lighting to match the gauges and even a cover to hide them when not in use. They totally overshadowed the Microsoft SYNC multimedia system, which we didn't use at all except for the Bluetooth, requiring a peek into the instruction manual during setup. Digging through thick booklets for only a two-day test-drive didn't seem like a good investment.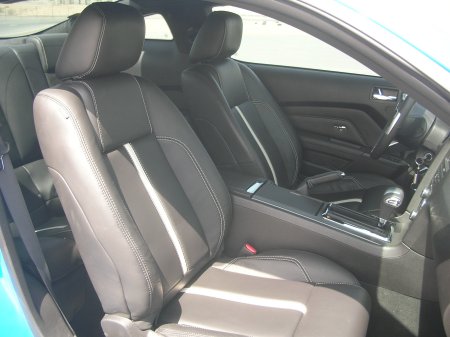 The seats are leathery and wide, although they could've used a bit more side-bolstering. Space is fine up front, although a bit tight around the knees.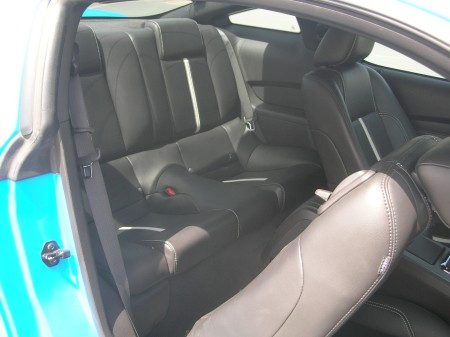 Rear access is a back-breaker, and once in, there is barely enough space for an average Tom-Cruise-sized adult. But Arnold Schwarzenegger will never fit.
The luggage area is shallow, with a small opening, but long enough in length to be somewhat useful. That radio antenna does not retract.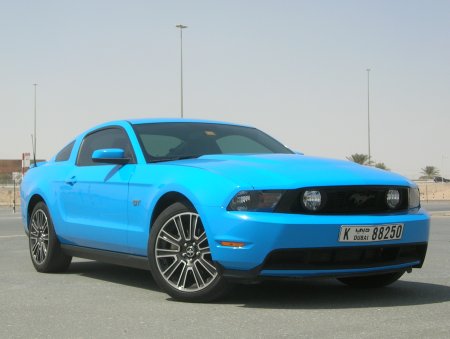 Okay, so the Mustang is a turd, but a very cool turd, with interior mood lighting, retro gauges, a capless fuel-filler hole, and handling decent enough to just about outrun a Honda-boy. Our tester even had squeaky front suspension, a jittery ride, a basic automatic, and a loud cabin. But I still felt proud driving it to the Porsche Panamera launch in Abu Dhabi. If there ever was a way to polish a turd, this is it. Hell, I'd buy one.
For detailed driving impressions, look for the upcoming complete review. For specs and prices, visit the Ford Mustang buyer guide.