Shelby Mustang GT350 redone for 2011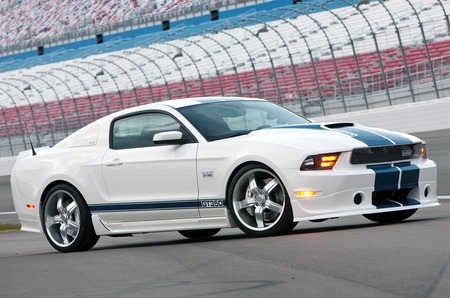 Shelby American, legendary tuner Carroll Shelby's firm, has ressurected the Shelby GT350 of old, basing it on the 2011 Ford Mustang GT. The Shelby team unveiled a supercharged concept version of the 2011 Shelby GT350 at the U.S. Barrett-Jackson Auction, on the 45th anniversary of the first GT350.
"In 1964, Ford Motor Company asked Shelby American to turn their secretary's car into a race winner to help them sell Mustangs," said old-man Carroll Shelby. "Our Shelby GT350 ruled its class at the track and was feared by GM and Chrysler owners on the street. Enthusiasts have anticipated the GT350's return since it went out of production in 1970. Now my band of hot rodders has created a car worthy of the name."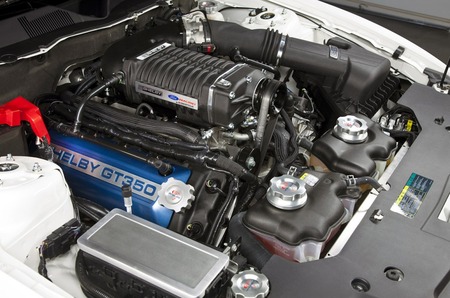 Beginning with the "small block" 5.0-litre Ford Mustang GT as its base, the Shelby American team worked with experts from Ford Racing, Goodyear, Borla, Cragar and Baer. Every segment of the car is enhanced or replaced to create "the ultimate balanced performance pony car."
Shelby's Las Vegas team attempted to integrate 1965-1970 Shelby styling cues with modern aerodynamics. Working with Ford Racing, they supercharged the engine with a goal of 500 hp, while improving handling as well. This Shelby is truly a complete performance package"
Each GT350 will be clad in white with blue "Le Mans" stripes, and feature the new Ford V8 coupled to a 6-peed manual transmission and central-exit exhaust. Blue Shelby GT350 valve covers and billet caps set off the supercharged engine. The Baer brake system features 6-piston kit in the front, as well as 14-inch ERADISPEED rotors in the rear with cooling ducts for all four corners. Included are 19-inch Cragar wheels and sticky Goodyear tyres.
The suspension was upgraded with new Ford Racing springs, struts, sway bars and adjustable caster/camber plates. The car also receives a new front fascia, tail light trim, front splitter, rear deck lid filler panel and rear fascia. Functional scoops are located on the side rockers and bonnet. GT350 badges on the outside and inside include a Shelby serial number. The A-pillar carries a fuel pressure, oil pressure and boost gauge.
A customer has to purchase a Ford Mustang GT from their local Ford Dealer, which is turned into a GT350 by the Shelby American Team. A limited number will be built in the 2011 model year. A Ford Mustang GT can be shipped by a Ford dealer to Shelby's Las Vegas facility for conversion or a customer can arrange to have a properly-specified car transported to the factory. The Shelby GT350 upgrade completed by Shelby American costs the equivalent of Dhs 125,000 in addition to the price of the base car.
One could likely import a completed GT350 to the GCC straight from Shelby for the right price. For updates and UAE prices for the stock version, visit the Ford Mustang buyer guide.