First drive: Rolls Royce Ghost & Phantom in UAE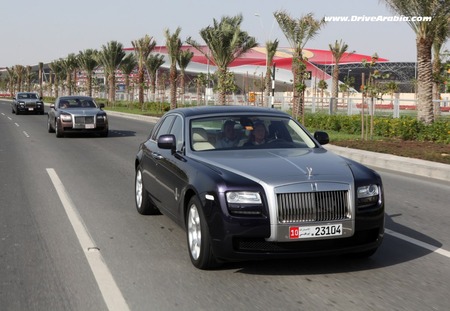 It's not everyday that I get a call to come down for a press event in Abu Dhabi, a couple of hours before the actual event. Normally, I wouldn't bother, but this time it was a chance to drive, briefly, cars from the Rolls Royce range. The BMW-owned firm had two Ghosts and one Phantom lined up for a limited excursion around the streets of Abu Dhabi. While not a proper test drive, a Rolls Royce is still a Rolls Royce after all.
We were actually chauffeured from Dubai to Abu Dhabi in a BMW 760Li, which is ironic because the car we were about to drive was based on that very car. Indeed, the Ghost somewhat shares a platform with the 7-Series.
After munching on some free food at Abu Dhabi's Shangri La hotel, we set off in a three-car convoy worth millions. My initial seat time was in a Ghost. It is a massive car on the outside, but didn't feel particularly immense on the inside, or at least, no more than a 7-Series. However, that's where the similarities end, because the Ghost has a completely unique interior, trimmed in customisable leather, wood and metal. The dash has a little info display below the traditional gauges, and the automatic shifter is simply a skinny stalk behind the steering wheel. Everything is power-operated, while a navigation screen is hidden behind a motorised wooden panel when not in use. When we saw the interface, it was instantly recognisable as the iDrive computer that I was fiddling with in the BMW limo earlier, only with "RR" logos all over.
I even had a stint in the rear seat, where there were two reclining seats completely with four a/c controls. By four, we mean each passenger gets two separate temperature settings to play with, one for the face and one for the feet. Access is via suicide doors that can be closed by holding down a button. However, you better hope that there is someone to open the door when you reach your destination, because it is bone-crushingly heavy to push outwards.
The drive consisted of straight lines and slow turns, and it was comforting to know that the big car fit in the lanes. It also had all the tech from BMW, such as lane departure warning, adaptive cruise control, heads-up display and all that. We barely pushed the big V12 motor, but the ride was quiet, floaty and comfortable. The steering wheel could be turned with only one finger and throttle response felt delayed on sudden inputs, so I started looking for a 'sport' mode and found none. After confirmation from a Rolls Royce representative, the Ghost really didn't have any user-adjustable settings, so everything is always tuned for comfort, despite this being touted as a "driver's" car.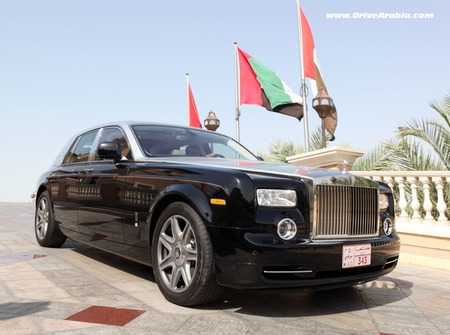 Somewhere along the way to Yas Marina hotel, I switched over to the Rolls Royce Phantom, an obviously larger car that seems to share nothing but vaguely similar styling with the newer Ghost. The interior is larger, with a more upright dash, and our tester was trimmed in white leather and carbon-fibre. The driving controls are similar to the Ghost, but the aging tech is decidedly awkward. The hideaway computer screen has an iDrive-like controller but a more complicated interface. All seat controls are hidden away under flaps on the central armrest. And the huge DVD touchscreens on the seatbacks for rear passengers have to be opened up like a tray, but the hinge mechanism is firm and complicated, so we can't picture a billionaire fiddling with such clumsy hardware.
The Phantom's rear seating offers only slightly more legroom the the Ghost. Our tester was fitted with a regular rear bench, so the feeling was more of a sofa, although two individual chairs are optional. It somehow felt cushier than the Ghost, especially as we were sitting further back from the door than in the smaller Ghost. The rear seating is also raised higher than the front row on purpose, although the side-effect of this is noticeably reduced headroom.
As before, our drive was a simple cruise, with no issues keeping it within the lane. The car was expectedly quiet and comfortable, with no feedback through the controls whatsoever. At one point, the two Ghosts in front of us almost plowed into each other under hard smoky braking, but I wasn't ruffled at all, simply braking and swerving to avoid the near-pileup without any tyre squeal. The big car behaved itself just fine.
These are expensive cars for expensive people, and the Ghost wasn't created to make the Rolls Royce brand more accessible to the masses. Still priced well over Dhs 1 million, the Ghost will be purchased by those who can already afford a Phantom, but want a more practical car. But this is definitely not the car for someone who wants to go limo-racing.
For UAE prices and GCC info, visit the Rolls Royce Phantom buyer guide and the Rolls Royce Ghost buyer guide.