First drive: Renault Logan 2011 in the UAE

The Renault Logan isn't a car that people like me look forward to driving. Even at my poorest point in life, making Dhs 3000 a month while in college, my first car was an old Mercedes-Benz. With leather. And cruise control. And ABS. And a hood ornament. However, most people don't think like me. For some unknown cosmic reason, they have to have a brand new car, even if it means taking a loan and risking jail if they can't pay. And so, the local Nissan/Renault dealer thinks they have a hit on their hands, especially since they are targeting peeps making at least Dhs 3000. I had the "pleasure" to drive this a few hundred kilometres on a media drive recently.
The sub-compact sedan, already around for the past five years in Europe as the Dacia Logan, is known as Europe's cheapest car. It received a mild frontal facelift recently but it still looks like something out of 1985. Built in Romania for Europe and the GCC, it is also built in India, Brazil, Russia, South Africa, Morocco and Iran for local markets, so obviously it is doing something right by offering cheap transport for the masses. There will also be stretched pick-up and van versions, as well as a nicer Sandero hatchback and larger Duster crossover based on the same platform.
There isn't much to speak about in terms of features. There is only one trim level for now, at Dhs 38,500, that comes with front power windows, rear wind-up windows, power steering, cloth seats, 14-inch steel wheels with hubcaps, a Blaupunkt CD stereo, a manual a/c, one airbag and an automatic gearbox.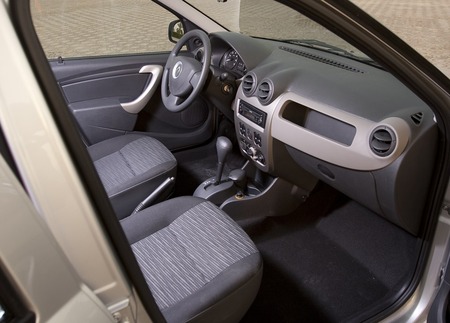 Renault had quite a number of cars lined up at the Dubai event, so I jumped into one and got to exploring the features, which only took about 30 seconds. All the cabin plastics are hard, everything except the windows are manual, and the seat does not adjust in height. It all reminds you of how much you paid for your car, but is well within what is expected in this class. However, there is just about enough space for four adults and a kid, so it is definitely spacious for its size. Renault claims there is more space than cars like the Toyota Yaris and the Chevy Aveo, but I didn't see a huge difference.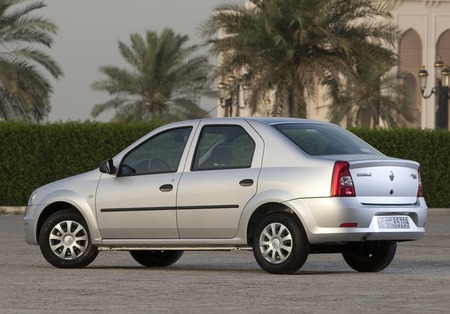 Powered by a 105 hp 1.6-litre 4-cylinder mated to a 4-speed automatic, performance is expectedly limited. There is even a manual gear-shifting feature. The car is jumpy off the line, so it makes a decent inner-city runabout, but it simply refuses to accelerate beyond that. At least twice I gunned it to cross a green light before it turned red, only to realise I won't make it, and hit the brakes at the last minute. Which brings us to the brakes. In both the incidents, I had half the car cross the line because I couldn't stop in time. That never happened to me in my entire life before. Indeed, the brakes are small.
But there is good news. As the convoy headed onto the highway and into desert roads, I noticed that the ride and handling is reasonably good for a car that has no sporting pretensions whatsoever. It certainly rides more comfortably than Renault's own Clio sedan as well as the class-leading Honda Jazz. And yet, it handles itself fine around corners, with limited body roll and no untoward bouncing. The suspension tuning is perfect.
However, the drive through the desert was intense, as the entire convoy was overspeeding along at 160 kph, topping out the engine and temporarily killing the a/c in the process. Even nicer were the strong crosswinds, blowing sand onto the two-lane road, and almost blowing away the cars too. Constant steering corrections with sweaty hands were required to keep the wheels straight.
At saner speeds, the a/c worked decently, at least in April weather, and the drive was uneventful as long as I didn't try to overtake anything. Wind noise was always at moderate levels, as was road and engine noise.
The Renault Logan doesn't set any new standards in this category, except possibly in ride and handling. However, the car actually gives off a "budget" vibe that isn't as pronounced in the Toyota Yaris and the Chevy Aveo, cars which Renault claims are Wolverine's arch rivals. We'd say our clawed hero would be better at fighting off the threat from cars like the Kia Picanto and the Suzuki Alto instead.