Porsche 911 GT2 RS 2011 variant released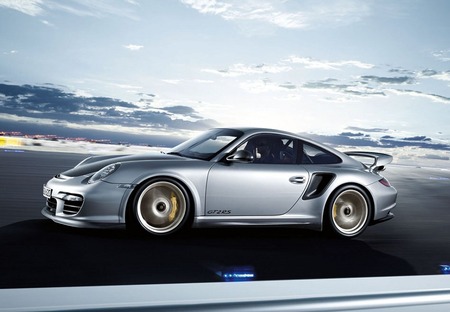 Another day, another Porsche 911 variant. We've pretty much lost track of these "new" models since 2005, as the German firm kept churning out version after version of the same car, with minor differences between each model. The latest variant is the 2011 Porsche 911 GT2 RS.
We'll just quote the press release on this one. "With horsepower up by 90 and weight down by 70 kg in comparison with the previous 911 GT2, the new 911 GT2 RS has a power-to-weight ratio of just 2.21 kg per horsepower, by far the best power/weight ratio in its class. The 2011 GT2 RS achieves a reduction of approximately 5% for both fuel consumption and CO2 emission reduction when compared with the previous 911 GT2."
The turbocharged 3.6-litre 6-cylinder boxer engine offers 620 hp, mated to a 6-speed manual gearbox, rear-wheel-drive, ceramic brakes, 19-inch alloys, adaptive suspension and other chassis mods.
The 911 GT2 RS can do the 0-100 kph run in 3.6 seconds, reach a top speed of 328 kph and lap the Nürburgring-Nordschleife racetrack in a claimed 7 minutes and 18 seconds.
The 2011 GT2 RS can be identified by its matte-black carbon-fibre bonnet, matte-black front lip, taller rear wing, wider wheels with flared wheel arches at the front, new light-alloy wheels with central locking nuts, red racing seats, fabric straps instead of inner door handles, and "GT2 RS" model designations on the doors and rear lid.
Limited to just 500 units worldwide, the 911 GT2 RS will be available from October 2010 and will cost more than Dhs 900,000. The GT2 RS is making its world debut at the 2010 Moscow Auto Show on August 25th 2010. It will probably reach Saudi Arabia, UAE and other GCC countries by the end of the year.
Keep track of future updates and prices in the Porsche 911 buyer guide.