Owner drive: Mazda 6 2010 in the UAE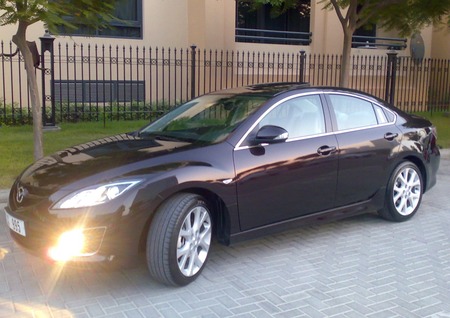 "Vroomm…whoa!!! What zoomed past me just now? RX-8? Naah, the badge says..oh wait, it reads Mazda 6…WHAT?" Well, that was sort of an exaggeration for a car like the 6 – mind you all, I am making mention of not the Ultra but the smaller and cuter Japanese variant here; no, I am not underestimating it either. But unlike what Mazda boasts about the 6, the car isn't really all about zoom-zoom (in a positive sense).
The first generation of Mazda 6 was first born back in 2002, as a successor to the Mazda 626 and rolled out with a bang into the then-boring mid-size segment flooded with only Camrys and Accords, the latter being a relief from the former in terms of looks. Despite Mazda's desperate attempt to instill their customers with their trademark "zoom-zoom" concept, the Mazda 6 in reality was successful in creating a stir in the segment with its style factor and awesome handling rather than trying hard to zoom down the lane with their loud and weak engines. Add to it a few minor reliability and quality issues, and the immortal love Camry and Accord gets in this part of the world anyway, this competent car never really made it up to the expected levels. However for 2009, Mazda chose to resurrect it with a new face and platform, and the result is the all-new Mazda 6, which yet again, has hit the crowd with its splendid design.
Before I start off, let me tell you that the car under review is my own Mazda 6 which is a top-of-the-range Japanese variant. The car comes loaded with features including smart key and button start, dual zone climate control, auto HID headlamps with self-leveling, auto rain-sensing wipers, auto dimming rear-view mirror, electrically foldable side mirrors, leather interior, power sunroof, traction & stability control, 18-inch alloys with low profile tyres, 240 watts 8-speaker BOSE sound system, redundant paddle shifters, airbags all around and so on. The 6 does not come with navigation even for the top option, and it is shameful that the top-of-the-range car never came with any parking sensors or Bluetooth gadgets –- not that I care about those anyway since I don't use them, but a top model should supposedly have those considering what the 6's competitors offer for the price.
The 6's exterior is nothing less than funky! It's as young, as energetic, as sporty and as cool as it can ever get. Styling is where the 6 stands apart from its competitors. However, the interior is a mixed bag. Interior design is good though there is nothing cool about it, except for some blue lighting effects around the audio unit's volume button. Quality, fit and finish is generally very good except for a few minor squeaks from around the hard plastics near the gearbox area. The dash-top is weird with the driver half being hard plastics while the passenger half having soft-touch plastic. The center console extends upward into the top dash and is also hard plastic; so is the dome covering the gauges. The top door panels come in soft touch plastics while the middle panel and the arm support is leather-padded with fake brushed aluminium finish on the door handles. Only the lower door panels consist of hard plastics. Hard plastic bits can also be found under the front seats, and all around the lower centre console.
The front seats, rear seats and center armrest are all dressed in leather. The 6's seats are fairly comfortable, offering very good support for the back. Legroom for the front driver and passenger is adequate, while that in the rear is nothing more than average. Blame the design, but headroom is only about adequate in both front and rear –- six-foot drivers will have to rest the driver's seat on the floor to avoid bumping into the roof, though that still happens while leaning forward. While the fit and finish seems slightly better than Camry, I personally won't rate it over the Altima, Accord or the new Sonata. As for convenience, there is this 8-speaker Bose audio with 6-CD changer and AUX port which is very good, and a strong a/c that can beat the summer heat with ease even without any rear vents. Front driver and passenger seats are electric and the driver seat has 3 memory presets. There is an extra power outlet placed inside the storage box under the centre armrest which is where the AUX port is. There are two cup holders between the front seats, one bottle holder on passenger-side door and two cup holders in the rear-centre armrest. The interior is fairly noise-proof; there is wind noise at speeds over 110 kph, and under hard throttle, the engine is noisy though refined. However the engine is dead silent once settled at highway speeds. Overall, not bad.
The new Japanese 6 comes with two engine choices – the carryover underpowered 2.0-litre unit, and a new 2.5-litre unit churning out 170 hp and 226 Nm of torque, which is the unit powering my car. Those figures may seem good on papers, but somehow it isn't as impressive. The car lacks power in the lower rev range, and there is nearly nothing below 2000 rpm. The engine needs to be revved hard to get all those digits on the paper come to life. Yet, it manages to hit 100 kph from standstill in around 9 seconds, enough to walk past the Camry, Accord and even the new Sonata. The engine is mated to a 5-speed tiptronic shifter which does its job smoothly most of time; however at times the gearbox seems a bit confused in hunting for the right gear, especially while taking off from standstill at a normal pace. One can also choose to shift in manual mode using the redundant paddle shifters; manual shifts are responsive enough with only slight delays in upshifts or downshifts. The good thing is, unlike the new Sonata, the 6 can be red-lined in Manual mode with no computer upshifting to spoil the fun. Top speed achievable is a good 225 kph on the gauge –- but don't expect it to climb till there like how a previous-gen Accord would with ease. Mileage is generally good inspite of the workhorse liking to reside at relatively higher revs. I never used my car's trip computer; but on a full tank, mixed driving conditions and a sane right foot, the car can easily run up to 500 km.
Now comes the fun part -– ride and handling -– the part which Mazda is probably most bothered about. This is one aspect where the previous-generation 6 stood unmatched by anyone except by its platform-mate, the Ford Mondeo. The old 6 rode as if it is on rails –- well, almost! It was mind-blowing for a front-wheel-drive; and with a good driver it can put an Audi to shame, sans any next-generation electronic aids that Audi has. But that doesn't seem to be the case with the newer 6. Of course, no Altima or Accord can still compare with it; but when compared to the older 6, there is something lacking. Probably I felt that because of the stupid electric power steering which is almost lifeless; even the cornering limits seemed a tad lesser in spite of the 18-inch low-profile tyres and hard suspension on the new 6 -– it is still fun to drive, but not as much as the older 6 or even the new Ford Mondeo which is currently one of the best in terms of handling. Limits are still high for a FWD and the car safely understeers when pushed beyond what it can take. Should things go out of hand by the least of chances, the stability control should keep things at bay; though in personal experience I have found it to be more stupid and lethal than an assistance — later on that part. And those who manage to spin this car out of control do not deserve to be behind the wheel anyway.
The slight compromise in handling nevertheless does not improve the smoothness in any manner though. In fact, the new 6 has a harsher ride than the old one; and with 18-inch low profile rubbers, things become even worse. Every crack on the road can be felt right up through the seats and till the spine; lets not talk about going over potholes even by mistake. So this rough character may not make the 6 an ideal family car, which is where the Accords and Sonatas shine – like its design suggests, the 6 appear to be more for the college-going crowd, fun-loving crowd or amateur driving enthusiasts -– and if not for them, then for exceptions like me who love enthusiasm limited to a 4-door sedan that doubles as an uncomfortable family hauler while keeping me smiling when I whiz past those crazy Camry cabbies in style!
On the safety front, the 6 come equipped with 6 airbags – two in the front, each on front driver and front passenger sides and curtain airbags. There is the usual safety belt and active head restraints. There is ABS with EBD and Dynamic Stability Control so as to prevent possible collisions during emergency or stupid unnecessary maneuvers. The DSC in the 6 isn't however tuned to perfection. While it seemed to work fine in test conditions, the car actually acted weird in most real-life situations. There was an instance where the car lost grip during a roundabout exit manoeuvre and it was all over the road in spite of intervention from stability control. In another incident, there was a bend which I took at a normal speed and for some weird reason, the DSC warning light kept blinking while there was no sign of actual intervention from the system and neither was it needed -– my claim supported by a faster Toyota Tercel which overtook me from the outer bend. Apart from an Audi A6, none of the other cars which I've come across had a military-strict and consistent stability program. At the end of the day, these electronics only 'aid' safety -– they don't ensure it under every circumstance and do not suffice for stupidity.
The all new zoom-zoomer from Mazda is a funky thing. However, it does have shortcomings such as a harsh ride, limited interior space, relatively higher price tag and so on that hampers its popularity. Though it does have good features and gadgets, there is stiff competition from brands like Hyundai who offer much more for lesser amount of money. Accord, Altima and Camry shall sell solely by brand image. Even its own stable-mate, the Mazda 6 Ultra, poses a threat to this Japanese kid especially in terms of pricing. However, it still has enough improvements and better looks over the old one to get enough attention and praise from some driving enthusiasts and the loyal Mazda fanboy following. And the Camry-Altima-Accord trio cannot even think of keeping up with this macho kid in the bends and mountain roads.
Photos by Vivek Menon.