Long-term update: 2010 Chevrolet Malibu LTZ wrap-up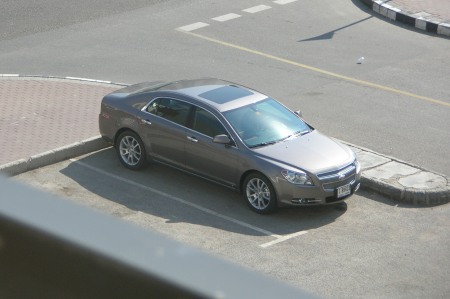 After a little more than a month, the 2010 Chevrolet Malibu long-termer finally left our fleet last week. We would've liked to keep it longer as we still had a lot to cover about it, but General Motors Middle East wanted to put the car back in use as a press test-drive vehicle. But before we gave it back, we just did a quick run to see what the engine is capable of in terms of fuel economy.
The 252 hp 3.6-litre V6 is a really cool engine, mated to a 6-speed automatic with vestigial paddle shifters. It looks to be lacking on paper, considering the Japanese "Big Three" each have uncannily similar 270 hp 3.5-litre units. But our "underpowered" Malibu V6, with 340 Nm of torque from 3200 rpm and help from a short first gear, managed to match the 0-100 kph times of the Altima and the Aurion, while beating the Accord. But drive it like a drag-racer all day, and the Malibu returns average fuel consumption numbers as high as 15 litres/100 km.
Calm down a little, and if you drive like a sane person with only occasional bursts of acceleration, and it is possible to keep the fuel economy hovering under 13 litres/100 km. Something around 12.5 litres/100 km is easily possible if your commute largely involves free-flowing highways.
But if you really are a greenie, this car can oblige even further. Holding a steady 100 kph on the Sheikh Zayed highway on a July evening, the trip computer showed an instant readout of 7 litres/100 km. This is possible likely due to a tall sixth gear, but combined with peaceful driving techniques, it looks possible to make your flat-footed neighbour with that "economical" Honda Civic jealous. A lot depends on how you drive. Heck, we even made a Camaro SS look green with some extra effort.
As for the Malibu, it has now left our fleet, but Chevrolet reps have promised to fill that parking space again soon. They actually addressed concerns that Drive Arabia will start to look like Chevrolet Arabia if they kept handing us cars. But as far as we can see, bring it on. It's not like we were paid for anything. We'll support any manufacturer that supports us.
Original Mileage When Borrowed: 12,131 km
Latest Mileage To Date: 13,500 km
Latest Average Fuel Economy: 12.5 litres/100 km
Cost of Latest Problems: Dhs 0
Cost of Latest Maintenance: Dhs 0

Total Non-Fuel Running Cost Since Borrowed: Dhs 0