Mazda 2 2011 launched in UAE, KSA & Oman

The 2011 Mazda 2, a facelifted version of the Mazda2 that has been on sale in Europe since 2008, was launched in the UAE today at a lunch event in Dubai. Jostling for attention alongside good chicken and bad beef were the sedan and hatchback models, competitively priced and completing the Mazda range in the GCC.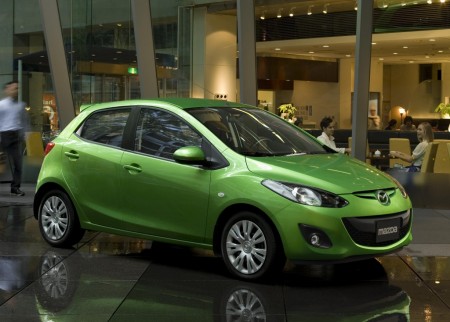 The Mazda 2 gets a 1.5-litre 4-cylinder DOHC, 16-valve engine that makes 101 hp at 6,000 rpm and 135 Nm of torque at 4,000 rpm, only 3 horses less than the heavier 1.6-litre Mazda 3. Mated to a 4-speed automatic transmission, the front-wheel-drive Mazda 2 has a rated fuel consumption of 6.8 litres/100 km.
The Mazda 2, based on the Ford Fiesta platform, comes with standard features such as electric power steering, front discs and rear drum brakes, ABS with electronic brake-force distribution, CD stereo, keyless entry, dual front airbags and a single-zone a/c. The interior can be had in either black or two-tone, with ten exterior colours available. The glove-box lid is a unique two-compartment design, with one compartment exposed on top to keep files and papers in. Wheel choices include 14-inch steelies with 175/65 tyres or 15-inch alloys with 185/55 ones.
As with the Fiesta, the interior is small, with good headroom and legroom in the front, but tight in the rear, with padded front-seatbacks for the knees. Cargo space is small, with the sedan having more floor space than the hatch. The seats are cloth-upholstered, and every other piece of cabin trim is hard plastic, with no padded armrests. Comparing it to the Fiesta, the Ford's vastly different has more soft-touch padding, but a smaller engine under the bonnet.
In the UAE, the Mazda 2 is competitively priced between Dhs 47,000 and Dhs 52,000, with two hatchback and two sedan trim levels. In each trim, the hatchback costs about Dhs 2000 less than the sedan in general. Launch events will be held in Saudi Arabia and Oman, but the car will be sold in all GCC countries.
Keep track of updates for the new Mazda 2 in the Mazda 2 buyer guide.