Ford Mustang Boss 302 2012 model debuts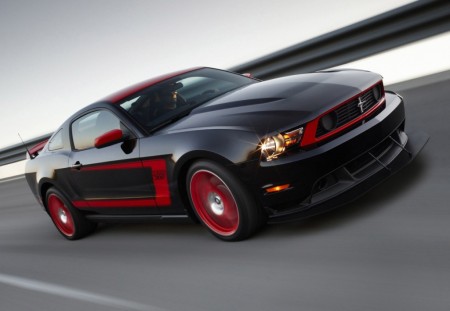 Ford says that in 1968, their management approved a special Mustang, a car that sacrificed nothing in its quest to be the best all-around road-going performance machine ever created by Ford Motor Company. That car became the sought-after 1969 Mustang Boss 302. Forty-two years later, the badge has been resurrected. With the millions of "special edition" Mustangs floating around, it is amazing that this badge didn't pop up sooner.
Based on the updated 2011 Mustang GT, the 2012 Ford Mustang Boss 302 will bridge the gap between the GT and the GT500. The 2011 GT isn't even out properly yet, and the Boss is already badged as a 2012.
To set Boss apart, each car will have either a black or white roof panel, coordinated to the colour of the side C-stripe. Available exterior colours are orange, white, blue, yellow and red.
Up front, a unique fascia and grille has blocked-off fog-lamp openings and a lower splitter. It helps to reduce underbody drag and front end lift while more effectively forcing air through the Boss-specific cooling system. At the rear is a simple spoiler.
The GT's 412 hp 5.0-litre V8 has been modified to produce 440 hp and 515 Nm of torque. A race-inspired clutch, a short-throw 6-speed manual transmission, a 3.73 ratio rear axle, a new air intake and carbon-fibre plates in the limited-slip differential complete the package. A torque-sensing (Torsen) limited-slip differential is an available option coupled with Recaro front seats.
A retuned induction sound tube channels noise from under the bonnet, while the Boss quad exhaust system has been tuned to a unique sound. Five kilos of sound-deadening materials have been removed on purpose.This will be one noisy car.
The Boss "mandate" is apparently to be the best-handling Mustang ever, so higher-rate coil springs, stiffer suspension bushings and a larger-diameter rear stabiliser bar we added. Boss models are lowered by 11 mm at the front and 1 mm at the rear compared to the Mustang GT. Interestingly, manually-adjustable shocks and struts are standard on all Boss Mustang models. Five settings are available via old-style hands-on adjustability, similar to the shocks available on the original Boss 302, with a screwdriver.
In contrast to the suspension, there is a speed-sensitive electronic steering system with three settings for comfort, normal and sport modes.
The stability and traction control systems can be fully turned off, or left in an intermediate sport mode that allows drivers to push their cars without completely disabling the safety systems, permitting more aggressive driving before the systems intervene.
The Boss 302 receives staggered lightweight 19-inch black alloy wheels, 9 inches wide in front and 9.5 inches in the rear. The Pirelli PZero tyres are 255/40ZR front and 285/35ZR rear. It also uses Brembo four-piston front calipers acting on 14-inch vented rotors up front, with standard Mustang GT brakes in the back, with a Boss-specific high-performance pad compound, low-compressibility brake lines and retuned ABS.
The Boss has a top speed of 248 kph and is the "first non-SVT Mustang" to achieve more than 1.0G of lateral acceleration.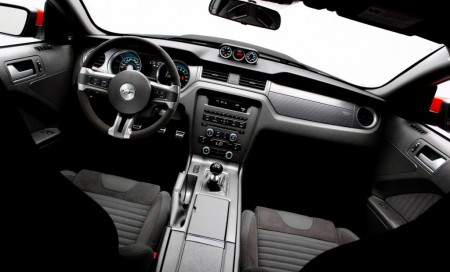 Inside, a unique Boss steering wheel covered completely in Alcantara suede complements the standard seats, which are trimmed in cloth with a suede-like insert. Recaro buckets are optional. A dark metallic instrument panel finish, gauge cluster and door panel trim also differentiate Boss from the standard Mustang, while a black pool-cue shifter ball and "Powered by Ford" door sill plates are also fitted.
To celebrate the racing heritage of the new Mustang Boss 302, Ford will also offer a limited number of Boss 302 Laguna Seca models, named for the track where Parnelli Jones won the 1970 Trans-Am season opener in a Boss 302. Aimed at racers more interested in on-track performance than creature comforts, the Boss 302 Laguna Seca has increased body stiffness, a firmer chassis set-up and an aerodynamics package carried over almost in its entirety from the Ford Racing Boss 302R.
Ford says that the team who developed it was not "going to let Boss become a sticker and wheel package", although that is what every other 'special edition' Mustang is. This really looks be a great factory-tuned car.
Whether the Boss — the name is starting to sound funny now — is going to be available in countries such as Saudi Arabia and the UAE remains to be seen. So far, only the 2011 Mustang V6 and GT models have been confirmed, and they aren't even out yet.
Keep track of the GCC range in the Ford Mustang buyer guide.