Long-term update: 2010 Chevrolet Cruze interior

We had been holding off on an update for our 2010 Chevrolet Cruze long-termer because we were trying to find time first to do another round of performance testing, as requested by a reader who wanted to buy one. But it turns out there is no discernible change in performance since our last test, so we'll go ahead and do a story about the interior instead.
Our Cruze press car is behaving exactly as it has been since we received it. Which means there have been no new problems since our time with it, but minor pre-existing issues continue to make themselves known, such as the blender noise from the engine for about two seconds from a cold start, and the obvious wind noise from the closed sunroof. Neither of these affect driveability or functionality, but if this were our car, we'd get these looked at under warranty.
We loaded up the car with four passengers and their shopping, and the car still didn't seem to lose much performance — it felt just as slow loaded as it is when driven alone. This isn't a negative point, considering it is still much quicker than similarly-priced cars 1.6-litre cars such as the Ford Focus and the Renault Fluence. The Cruze comes with a 140 hp 1.8-litre engine. Our latest fuel consumption remains unchanged. As we said before, it can likely do better, but we are used to the instant torque of a V8 Jeep. With the Cruze, we have to rev it a lot to gain speed quickly when entering junctions, merging with traffic or overtaking.
What we've just described is the same for most economy cars, including overpriced ones like the Honda Civic and the VW Gayolf. The unique selling point of this car remains its interior design. It is true that the Cruze has more grey hard plastics than either of those "premium" compacts, but the Cruze is also the only non-luxury car that we can think of to have leathery surfaces on the dashboard. All the off-white sections you see in the photos are leathery to the touch and colour-matched to the leather seats. Also, that aluminium-looking dimpled trim piece on the central console feels like actual metal, though it'd be too optimistic to think it is real. The chrome rings on the gauges are also a nice touch.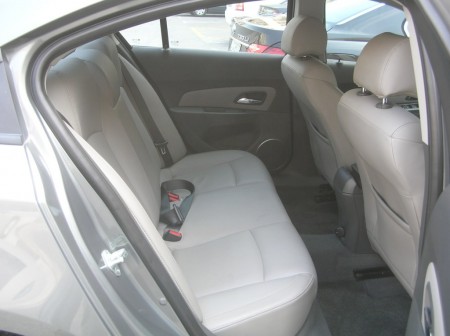 There is good space in the back for people less than six feet tall. Looking at official interior specs, the Cruze seemingly has better front legroom, rear legroom and overall headroom, even though we said earlier that the Civic "feels" slightly more spacious. We have no idea how legroom specs are calculated, considering the front seats can be moved front and back, but at least we know that the Cruze is among the most spacious in its class.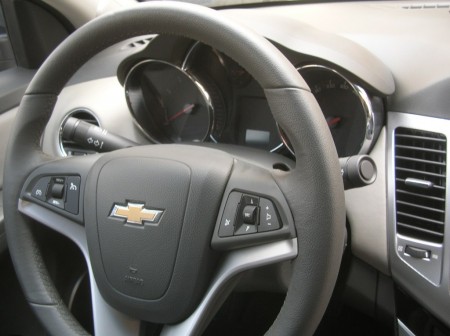 The a/c is seemingly a single-zone automatic affair, with a digital LCD display shared with the stereo. It takes about 10 minutes to bring the cabin down to sweat-free temperatures, after which it can feel nicely cold even in a summer afternoon. However, if you benefit from covered parking, the a/c is icy cold right from the time you start the car, and remains so even after you drive out into the sun. One ergonomic issue is that the vents facing the driver are partially blocked by the steering wheel, so it can be frustrating if you want a direct blast of air on your face. Like in most compact cars, there are no rear vents.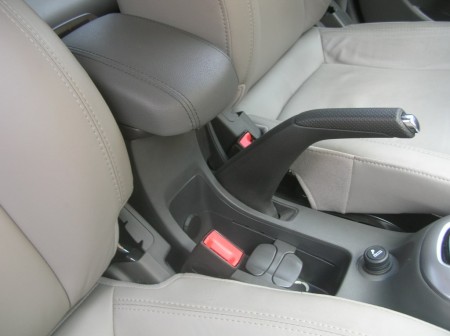 Thoughtful touches include the exposed cup-holder whose central divider can slide back and forth to accommodate most drinks. Also, that central armrest can extend forward for better comfort, and covers a deep storage cubby under it. The cubby also contains the AUX port for the stereo. A USB port is optional.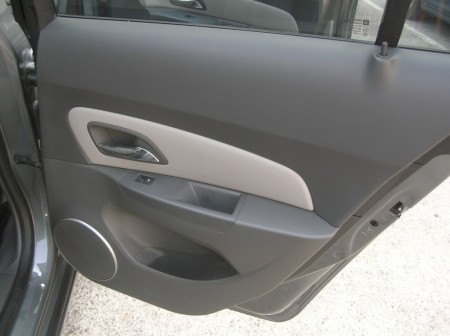 All doors get useable pockets. Door armrests are padded for the front passengers, but not the rear. The rear also has no central pull-down armrest, and has a lap-belt for the middle passenger.
There used to be a dealer-installed fire-extinguisher bolted to the passenger-side floor when we tested this car earlier this year, but it has since been removed and left rolling around in the luggage trunk, probably due to my whining. Incidentally, the trunk itself is rather massive for a compact car. A fold-flat seatback is an option, but our mid-range tester doesn't have it.
As for comfort, the ride is a balance between handling and smoothness. It can sometimes get harsh over sharp potholes, but that is the price to pay for a shorter-than-midsize wheelbase, a non-independent rear suspension and 17-inch wheels. However, the "European" suspension tuning is very good for such a setup, as the handling is very satisfying. The electric steering is nicely weighted, is fairly direct, is firm enough at highway speeds and even offers some feedback, so no real complaints there even if it feels a bit loose occassionally. The ABS-assisted disc brakes are a bit mushy in pedal feel, but do the job adequately, considering the abuse this car has been through by journalists.
There is moderate road noise from the wider-than-average 215/50 tyres on certain roads, but the only wind noise seems to be from that sunroof sealing problem in our heavily-used tester. Funnily enough, the horn speaker is possibly situated very close to the cabin, so when you honk, it sounds like it is almost in the car — a nice discouragement from using it too much. The engine is very audible on hard throttle inputs.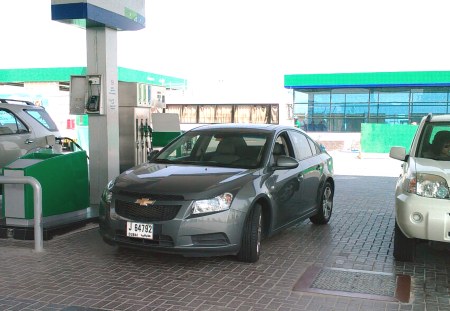 The Cruze is a capable jump-in-and-drive commuter car that can be a lot of fun when up to speed on the twisties. This is the kind of car I'd recommend to true entry-level enthusiasts who want to hone their handling skills with a slower car, instead of jumping into a Lumina SS first and instantly wrapping themselves around a lamp-post. Any good driver worth their salt will know what I'm talking about.
Original Mileage When Borrowed: 13,337 km
Latest Mileage To Date: 14,599 km
Latest Average Fuel Economy: 10.7 litres/100 km
Cost of Latest Problems: Dhs 0
Cost of Latest Maintenance: Dhs 0

Total Non-Fuel Running Cost Since Borrowed: Dhs 0