First drive: Kia Optima 2011 in the UAE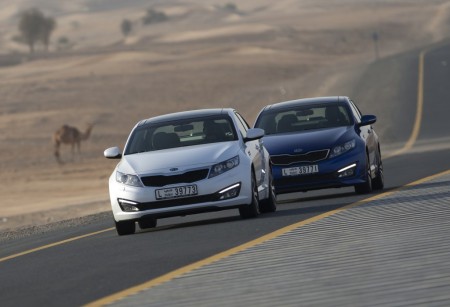 The 2011 Kia Optima is hot. It is so hot that it is sold out wherever it has been launched so far. It is sold out in the UAE too, and it isn't even out yet officially. The car will hit GCC roads by the first week of November, but Kia organised an all-day media test-drive in Dubai.
For those who really just want the Optima just for its mechanical attributes, they don't have to wait, because the Optima is fully based on the 2010 Hyundai Sonata, down to the choice of an underpowered 162 hp 2.0-litre or a detuned 178 hp 2.4-litre engine and the single airbag in the base model. Likewise, buyers of the top model can get 6 airbags and a panoramic glass roof, but not the 190 hp direct-injection 2.4-litre or the turbocharged 274 hp 2.0-litre that are making waves in the United States.
The event started off from the Intercontinental Festival City hotel in Dubai, where we were greeted with a ridiculous number of brand-new Optima sedans. Media from all over the Middle East and Africa were flown over for the event. The stunning cars all looked identical, except that a few had a mild body kit that is optional on both engine variants. In hindsight, I should've looked more closely, as I ended up picking a 2.0-litre model. It turns out the 2.0-litre has one exhaust tip and the 2.4-litre has dual exhaust tips. There is no badging to differentiate the two versions.
The interior is very 'European' in the way that Volkswagen, Audi, Volvo and Saab do interiors. The centre-console is tilted towards the driver, and part of the dash is lined with stitched leather. At least in top trim, there is enough soft-touch materials on the rest of the upper dash and door sills, with leather or cloth padding in the door inserts and armrests. As in the Cadenza and the Sonata, about the only thing to whine about is Hyundai-Kia's tendency to use hard plastics on the upper reaches of the doors — even if very little, it takes away a bit from the premium 'European' feel. Hard plastics are also on all surfaces below eye-line, but this is well within class standards. After all, it is not a high-priced luxury car, as much as it looks like one.
In our optioned-up tester, both front seats were leathered, powered and even ventilated. Seat side-bolstering is moderate, but legroom is good front and back, even if not class-leading. Rear headroom may be a concern for NBA basketball players, who incidentally Kia was bragging about sponsoring. The high door sills and thick C-pillar along the back make the rear seating feel a bit "closed" too. Cargo volume is generous.
A quick look at the features revealed a CD/MP3 stereo with USB support and a simple red display with eight Infinity speakers, power-folding mirrors, always-on LED driving lights, LED tail lights, HID headlights, full-colour LCD screen within the gauges, 18-inch alloys, paddle shifters attached behind the wheel, basic cruise control, opening glass roof and full keyless entry with starter button. The dual-zone a/c with rear vents worked extremely well throughout the day. All that, but we couldn't find any Bluetooth functionality.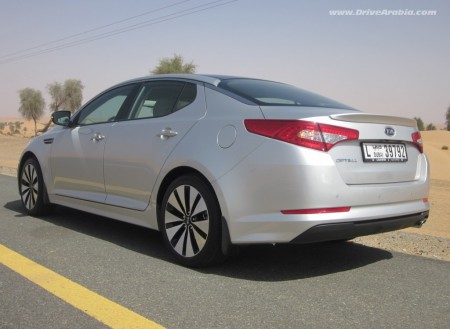 The drive till the Hilton hotel in Fujairah and back was interesting in that the provided route took us through winding roads, mountain tunnels and city streets. Handling was rather odd, though only at the limit. Body roll is moderate at most, and well-controlled without being bouncy or floaty. But making sharp steering changes seems to swing out the rear tyres, as if the rear is too light. Braking hard in an emergency stop seems to make the rear move sideways by a couple of inches too. All this can be fun, but not expecting it can cause a few goosebumps, especially when the steering hardly offers any feedback.
Like the brakes, the 2.0-litre engine is adequate if you like loafing around town, but acceleration is very slow. But while overtaking and jumping into crowded roundabouts takes a lot of pre-planning, throttle-pedal response and automatic gear-changes are good so you don't worry about delays like in other drive-by-wire cars. The 6-speed gearbox seems to be tuned for economy, as it likes to stay in the higher gears, so I made use of the plasticky paddle-shifters on the steep mountain roads. They work well, even if slightly delayed and tending to upshift on its own at redline. Sticking to lower gears made climbing 35-degree gravel slopes easy, as we had to do at a Masafi Springs coffee break.
As for ride, our Optima with its low-profile 225-width tyres on 18-inch wheels rode a bit firmly but still fairly comfortable. The car remains quiet upto a certain point, but at 100 kph and beyond, wind and road noise becomes very noticeable. The buzzy 4-cylinder engine makes itself known on any throttle input too. But stability is superb, even at speeds as high as 190 kph.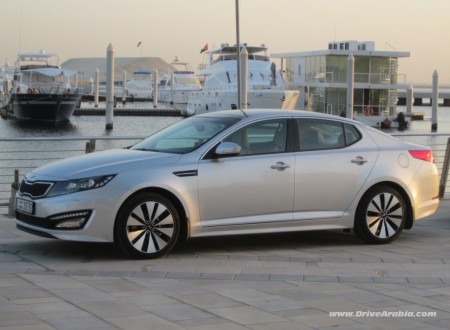 So the 2011 Kia Optima is a competent midsize sedan that, along with the Sonata, redefines styling in this segment and at a competitive price too, but does not set any class standards in terms of driving pleasure. In other words, if you were planning to buy a VW Passat, save yourself some dough and get the Optima instead.