Al Attiyah wins 2010 Dubai Rally as Al Marri wins Middle East title

Nasser Saleh Al Attiyah cruised to a comfortable victory in the 32nd Dubai International Rally today but lost his FIA Middle East title to fellow-Qatari driver Misfer Al Marri.
Partnered by Italian Giovanni Bernacchini in a Super 2000 Ford Fiesta, Al Attiyah had a winning margin of six mins 16 secs from second-placed UAE driver Sheikh Abdullah Al Qassimi and his British co-driver Steve Lancaster in a Mitsubishi Evolution 9.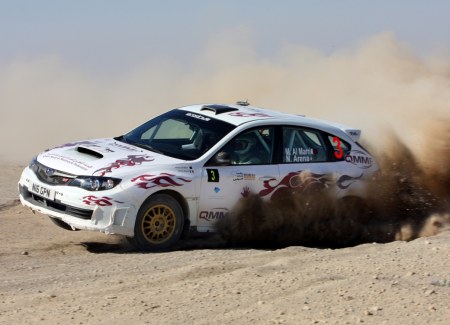 Needing only to finish in the top six to become the fourth Qatari to be crowned FIA Middle East rally champion, Al Marri took his Subaru Impreza to third place to complete a wonderful sporting weekend for his country following its successful FIFA 2022 World Cup bid.
Qatar's Abdulaziz Al Kuwari claimed fourth position with a late burst on the final stage to drop Kuwait's Essam Al Nejadi to fifth. Another Qatari, Jaber Al Marri, completed the top six in the eighth and final round of this year's FIA Middle East series, which was held under the patronage of H.H. Sheikh Majid bin Mohammed bin Rashid Al Maktoum, Chairman of the Dubai Arts and Culture Authority.
It was Al Attiyah's 38th rally victory in the championship and his sixth in Dubai. While the six-times Middle East champion has become a prolific winner, Al Marri is only the second driver in the history of the regional series to capture the Middle East title without recording a victory in the series. Saudi Arabia's Mamdouh Khayat was the first in 1992.
Consistency has been the key to Al Marri's success. He finished runner-up in Qatar, Jordan, Saudi and Cyprus and third in Lebanon and Syria, as well as in Dubai.
Runner's up spot in his home event saw Al Qassimi climb to third place in the final championship standings above Qatar's Khaled Al Suwaidi who retired from the rally on the ninth of the event's 12 stages today with a broken drive shaft.
While Leg 1 had seen a huge disappointment for Al Qassimi's brother, Sheikh Khaled Al Qassimi who went out with a blown engine while leading, Leg 2 brought a spectacular premature end to the rally for another UAE driver, Rashid Al Ketbi.
He made a flying start to the day, winning the opening stage by 3.4 seconds from Al Attiyah, but then went out of the rally 6.32kms into the next stage when his Super 2000 Skoda Fabia Evo 2 rolled end over end after hitting a bump at high speed. Al Ketbi and co-driver Khalid Al Kendi were unhurt.