First Drive: Hyundai Accent 2012 in the UAE

The 2012 Hyundai Accent isn't a car anyone was anxiously waiting for. That isn't to say no one anticipates sub-compact cars with sweaty palms. The launch of the next-generation Toyota Yaris is going to be a big event in the lives of many in the UAE. Nothing else comes close to the Yaris in popularity. The Accent has always been sidelined. However, we just drove the all-new 2012 Hyundai Accent from Dubai to Fujairah and back, and it's a car that can give Toyota some sleepless nights.
For one, the 2012 Hyundai Accent looks pretty good for a car that competes in the "bargain" segment. During the presentation at the media event in Ibn Battuta Gate hotel, they mentioned things like "eagle eye" headlights and "character lines" that wrap right around the car. They seemingly put a lot of thought into making it look good, although there is only so much they could do with a small sedan.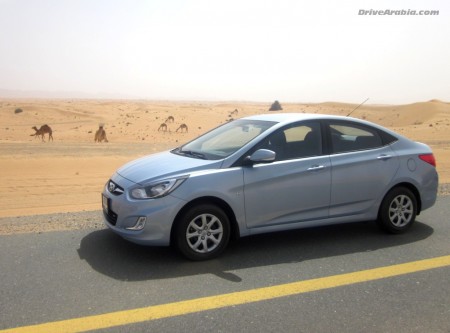 The 2012 Accent can be had in GCC-spec with a 106 hp 1.4-litre or a 122 hp 1.6-litre engine, both mated to either a 5-speed manual or a 4-speed automatic. Unfortunately, Hyundai does not plan to import their Korean-market models which have the new direct-injection 138 hp 1.6-litre engine with the 6-speed automatic to keep prices low.
After the presentation, we headed out in convoy from the hotel in Dubai to Fujairah, with the promise of a free lunch at the Hilton there, with Hyundai execs hoping journalists actually test the car on the way. I was assigned to a blue one, which seemed to be the 1.6-litre base model, judging by its 14-inch steel wheels with hubcaps, lack of steering-wheel buttons, no centre-console storage cubby and no leather on the steering wheel. I only figured that out after seeing those items on a higher-spec model riding on 16-inch alloys. Otherwise, the well-built cars were identical, with cloth interiors, power windows, electric mirrors, keyless entry, trip computer, hard-plastic surfaces and a very pretty CD stereo deck. They spoke of Bluetooth, rear camera, six airbags and what not, but it depends on local dealers if they want to offer those as options.
While the textured hard plastics are on par for this category, it's the space that was impressive. Given its newly-stretched wheelbase, it really felt like a larger car, with good legroom front and back. Even the headroom is good, although taller peeps may complain in the back. Boot volume was also impressive.
Since our basic 1.6-litre car didn't have the centre-console storage-cum-armrest, there was a pull-down right-armrest for the driver's seat only. And there are four cup-holders and two door bottle-holders, all thoughtful touches. However, even though the doors have nice padded-cloth inserts, the armrest part was still hard plastic, and this caused me to get a left-elbow ache on the long drive.
The car drives well in any road situation. The ride was surprisingly smoother than we expected, as the suspension seems a bit softer than most European sub-compacts, while wind and road noise at highway speeds was above-average, but within class standards. It can lose its composure a bit in crosswinds on the open road though, and constant steering corrections were required, as it is with most small cars. Forward visibility was good, the engine was adequate, the tiptronic gearbox chose gears perfectly by itself, the four-wheel-disc brakes worked fine, and the controls offered pretty solid feedback without being heavy, so it was rather enjoyable to throw around. Handling isn't class-leading in the pursuit of comfort, but it is good enough to be somewhat entertaining, and on that long drive, we appreciated the balance. Our car had 175-width tyres on 14-inch wheels, so we expect the higher-spec model to behave a little more firmly with its 195-width tyres on 16-inchers.
We racked up maybe more than 350 km to and from Fujairah using some back roads, and managed a fuel consumption of around 7.5 litres/100 km, but I was being very aggressive with the throttle and always had the seemingly-good a/c on in February afternoon weather, so it could likely do better.
In this class of cars, it is hard to find fault with the Accent. This is about as stylish as it gets if you really want a sedan in this size. It is no worse than anything else in its category, better than many in a lot of aspects, and is expected to be priced between Dhs 40,000 to Dhs 55,000 when it comes here in March. You can't argue with that.