So we got a 2011 Toyota Land Cruiser 5.7 Xtreme

This drive was a long time coming. The "Xtreme" package for the Toyota Land Cruiser has been around since late 2008, with any of the LC trims and engines. Modified by an Icelandic firm called Arctic Trucks at their Dubai-based workshop with a full UAE dealer warranty, the Xtreme makes a Land Cruiser look hopped up on steroids, and is now available for the "new" 5.7-litre V8 model that debuted in the GCC recently.
The most obvious difference between the Xtreme and the regular Land Cruiser is all in the wheels. The suspension seems lifted by more than 4 centimetres, while there are additional fender flares tacked on over the wheel arches to cover the much larger offroad tyres. There are metal tubes alongside the side steps, and the front bumper lip is a bit different.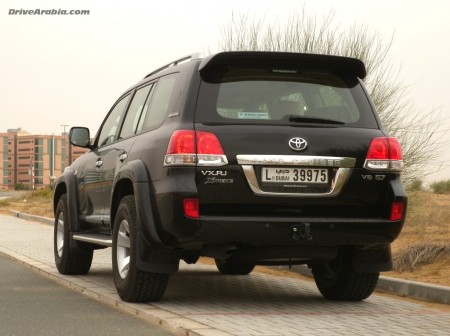 The add-ons add about maybe 10 centimetres to the width of the truck. That may seem like a small number, until you realise that it takes up almost the entire width of certain cramped parking spaces. It can still fit, but keeping it between the lines can take a couple of tries, unless you just choose to be like most incompetent LC owners and leave it sticking out. Luckily, the doors can still be opened easily when parked alongside other cars, because the main body of the truck isn't any wider than before.
There isn't much more different than the Toyota Land Cruiser we tested before. The interior is familiar, except for the slightly higher ride height and the wood-effect stickers on some plastic bits. Our fully-optioned tester even had "60th anniversary" badges and hooks on the door sills to tack on sun-shades.
Those sun-shades are not of the pull-up variety, but actual separate pieces that were dumped in the cargo hold, as can be seen here. They can be clipped on as needed in the desert. Also check out the bag holding an air compressor and a tow rope, though we doubt those are standard equipment.
Since there seems to be a shortage of photos for what looks to be a special UAE-only model, we went ahead and took a bunch. And watch out for the full review. It is easier to drive than it looks, on and off-road, even if all we did was flatten firm sand in wet weather.