Crisis time for Japanese automakers after quakes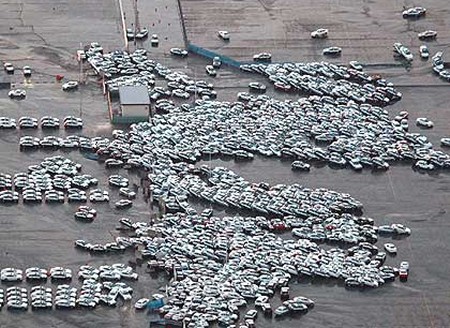 This phase of the year does not seem to be so good for the island nation of Japan, which recently had gone through one of the worst earthquakes ever in March, and an even worse aftermath with multiple aftershocks and nuclear radiation dangers. The nation that rests on the "ring of fire" in the Pacific is home to a large number of well-known automakers, among them Toyota, Nissan and Honda. The quake which struck the nation has also jolted the automakers as well, causing severe damage to their production rate, losing the potential production of over 500,000 cars since then.
According to Automotive News, the country's top seven automakers have lost well over 510,000 units of production following damage to production facilities and supplier delays –- of them, the hardest hit automaker seems to be Toyota with a loss of about 260,000 units. The automaker has been having a pretty bad time since the beginning of their long saga of recalls and Mother Nature's fury only added to the damage. Of Toyota's 18 domestic manufacturing facilities, only two have been back online while the others are expected to resume on April 18, all with the uncertainty of shutting down again soon.
The other world leaders including Honda, Nissan, Subaru and Mitsubishi operate with outputs on a smaller scale while facing similar uncertainty as Toyota. Honda and Nissan each lost more than 50,000. And the comeback challenge gets only tougher with the recent set of jolts the country has been experiencing, some of which touched 7.1 magnitude on the Richter scale, triggering tsunami warnings once again. Production is also hampered by the electricity shortage due to the nuclear powerplant failures.
While such circumstances prevail, there is no word as to what the ultimate fate of the flood-damaged units was. If you happen to see a sudden increase in the export-only right-hand-drive vehicles in Aweer and Sharjah used car markets, you know the answer. Prices of new cars, even American ones, are also expected to go up around the world due to the shortage of units as well as parts sourced from Japan.