Kia Optima Hybrid sets a Guinness World Record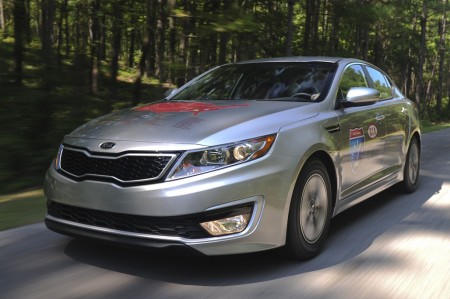 A Kia Optima Hybrid has set a new Guinness World Record for the lowest fuel consumption in a hybrid gasoline vehicle (which is a new category) by driving through 48 adjoining U.S states. In order to qualify, the Optima was required to achieve a minimum of 4.53 litres/100 km.
Drivers Wayne Gerdes from Wadsworth, Illinois, and Chris Bernius from New York City, successfully piloted a factory-standard 2011 Kia Optima Hybrid sedan through a 12,638 kilometres route across America and achieved an incredible average fuel consumption of 3.64 litres/100 km, superseding the car's official EPA highway fuel consumption figure by 61.37%.
Kia's 48 state challenge was completed in 14 days driving an average of 902 kilometres per day through open highway/desert roads, challenging terrain or gridlock city traffic. The Optima Hybrid used just over 5.5 tanks of petrol to complete the route, recording an average distance of 2,269 kilometres between fill-ups. To comply with Guinness World Record guidelines, the Optima Hybrid had to carry two people and their luggage throughout the journey.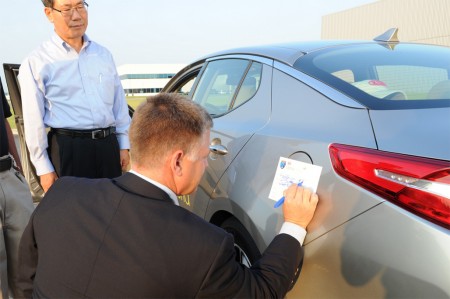 The record attempt was verified by Philip Robertson, Adjudicator at Guinness World Records, who also presented the drivers with their Guinness World Record certificate at an official handover ceremony at Kia Motors' manufacturing facility in West Point, Georgia on September 12th.