Long-term wrap-up: 2002 Jeep Grand Cherokee changes home
Our Jeep went for its last service back in November. While it has been a great car, decently reliable despite misgivings about Chrysler quality, we were fine with the cost of regular servicing because we could afford it. But then we realised that the dealer service charges were only slightly less than that for Mercedes-Benz. That got us a bit peeved, and we decided that we might as well get a better car to pour money into.
We got the "150k" service done at 147,000 km. The actual service cost us Dhs 700. And then the service advisor recommended an "engine flush" and a "fuel-air induction service", whose benefits are dubious at best, but we went along for the purposes of this story. Those two items, together with labour, cost us an additional Dhs 1,429. Two front wipers were thrown in for Dhs 137. All this somehow added up to a total cost that ballooned to a tidy Dhs 1,700.
After all that, our car ran just as fine as before. We asked them to check the cruise control system, which decides to stop working every once in a while, but they said it'd cost Dhs 400 just to diagnose it, so we skipped it. We were ripped off enough for now.
As for self-maintenance, we unjammed the sunroof, which was due to a broken clip, and we also got whiter Sylvania headlight bulbs off the internet for Dhs 100 or so, because it is a bit hard to find 9005XS-spec bulbs in the aftermarket here. Together with the new headlights we installed earlier, we can finally see at night properly.
Now, in all reality, a 2002 Jeep Grand Cherokee is a pretty simple beast, and charging Germanic-luxury money to service these things is ridiculous. Just find a decent Jeep specialist elsewhere if you own one. The resale values for these trucklets are only so-so, therefore a full service history ain't worth much after it is nine years old.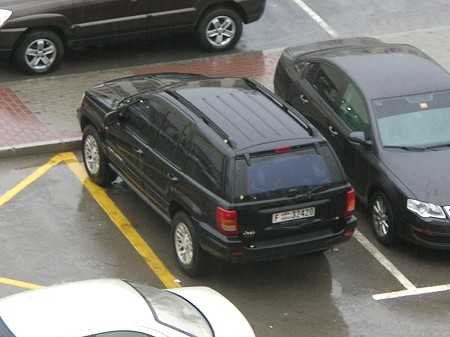 Still, I have now sold the Jeep to a friend of mine for Dhs 20,000, just as it started throwing false warnings about low oil pressure and while the rear wiper arm decided to stop working. I elected not to fix these at the dealer, where they already quoted me a four-figure amount, and I've left it up to my buddy to do as he pleases. Recently, it also threw a "check engine" light after a car wash, but that too was a false warning due to a wet sensor, as we found out after pulling the codes and figuring out what they meant ourselves via the internet.
The car is still running fine, and it is still in excellent condition for its age. We only sold it to make way for new long-term cars. But we'll be keeping track of it in its new life.
Original Mileage When Bought: 117,500 km
Latest Mileage To Date: 147,500 km
Latest Average Fuel Economy: 15.2 litres/100 km
Cost of Latest Problems: Dhs 0
Cost of Latest Maintenance: Dhs 1800

Total Non-Fuel Running Cost Since Bought: Dhs 14615