Ford Shelby GT500 2013 has most powerful production V8 with 662 horses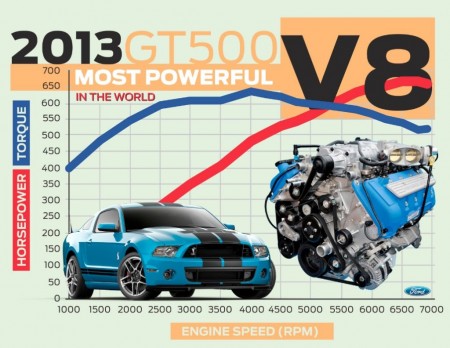 Ford put the world's greatest automakers to silence when they announced that the 2013 Shelby GT500 would produce north of 650 horses a while ago. But this figure was not official; it required SAE certification.
The Blue Oval company has announced that the 2013 muscle-bound mayhem of a car would produce 662 hp and 855 Nm of torque. These figures indicate a substaintial improvement over the earlier estimates; an increase of 12 hp and 29 Nm of torque.
Even the much-hyped 580 hp Chevrolet Camaro ZL1 is shy of that horsepower figure by a good 80 units and their flagship-dragstrip champ, the 638 hp Chevy Corvette ZR1 with 818 Nm gets some ego-bashing too.
It would be interesting to see what the boffins at the Chrysler camp comes up with in the next few years, as they prepare to phase out the Challenger and launch the lighter new Barracuda model.