Long-term update: 2012 Toyota Camry meets Hyundai Genesis Coupe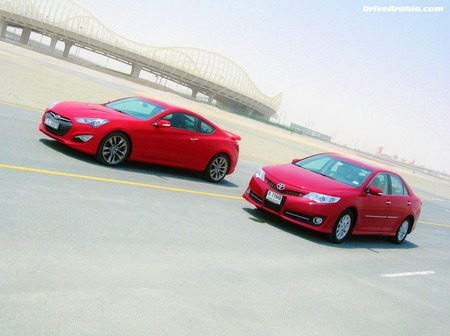 The Toyota Camry is back this year in an all-new aggressive skin, complete with an angry chin and rear lip spoiler. These are clear signs that the Camry SE is vying to be something more than just a commuter car. With more power under the hood and revised suspension for tighter handling, the Camry SE Plus is a much better drive than before. But is it good enough to hang with sportier cars? Can it take on something like the Hyundai Genesis Coupe? Will this be an epic battle, Hindi movie-style, where the quiet office-worker suddenly transforms into a martial-arts fighter, a gun in each hand, killing snooty little sports cars one-by-one to avenge the family name? Is the Toyota Camry a sports sedan?
In a word, no.
But it makes for some pretty pictures.
Original Mileage When Borrowed: 5,883 km
Latest Mileage To Date: 8,200 km
Latest Average Fuel Economy: 11.3 litres/100 km
Cost of Latest Problems: Dhs 0
Cost of Latest Maintenance: Dhs 0

Total Non-Fuel Running Cost Since Borrowed: Dhs 0