Nissan GT Academy to make real racers out of Middle East gamers

In 2008, Nissan teamed up with Sony PlayStation and started the Nissan GT Academy to see if a fast racing game player become a fast professional race driver in the real world. Over the past four years, the GT Academy has proved to be a unique and successful route to top flight motorsport for a select few around the globe. And now, GT Academy will offer entrants from the Middle East the chance to go from gaming to racing.
This "opportunity of a lifetime" from Nissan and Sony PlayStation will challenge the Middle East's best game players to transfer their skills from the Gran Turismo 5 game to the real world of racing. Two routes are available to those wishing to take part – live events and an online competition. The prize is the chance to compete in an internationally recognised endurance race, all courtesy of Nissan and Sony PlayStation, so all contestants need to be aged above 18.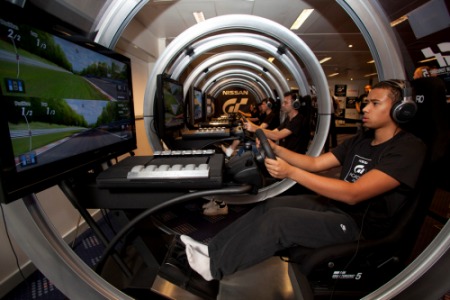 The first opportunity to participate at a live event will be at GAMES12 in Dubai, the largest video-gaming convention in the GCC region. To be held on September 20-22, visitors to the PlayStation stand will find dedicated GT Academy simulator pods available – the fastest time recorded over the three days of GAMES12 will be guaranteed a place in the next selection round. Other events will be staged across the participating countries, including Saudi Arabia, Kuwait, Lebanon, Oman and Qatar, throughout October and November with all entrants included in the main competition's leaderboard.
The second route requires competitors to tackle a free-to-download Gran Turismo GT Academy qualification challenge. This exclusive edition, available to anyone with an internet-connected PlayStation 3, is based on the Gran Turismo racing simulation game.
At the close of the competition in December, the fastest online gamers will then join the winners from the live events at the regional final in January 2013. From this group of 25, just eight will then go through to the 'International Race Camp' at Silverstone, England in March. There, they will compete against an international field at the wheel of a variety of Nissan cars for the chance to win GT Academy and go on to become a professional racing driver.