News round-up: Ferrari Racing Days, Porsche 918, Mclaren P1, Range Rover V6, Spyker & Chevrolet SS

Here's the latest automotive news in brief from the Middle East and around the world.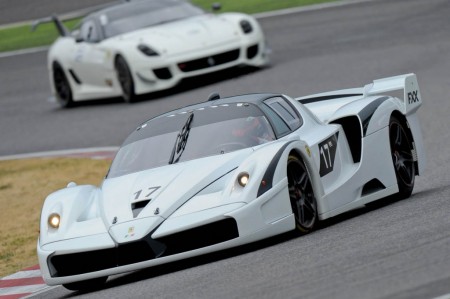 Ferrari Middle East has announced the Ferrari Racing Days to be held on the 7th till the 9th March at Yas Marina Circuit in Abu Dhabi. The event is a combination of the Ferrari Challenge Trofeo Pirelli Asia Pacific Series, as well as rounds by 599XX and FXX special models, and Ferrari "F1 Clienti" cars. Ferrari Owners are entitled to take active part in the event, to drive their road Ferraris on the circuit in dedicated time slots and get access to the Ferrari Owners' Lounge. Only on Saturday 9th at 3 pm will the circuit's grandstands be open to the public for a show with an actual Ferrari F1 car. Tickets are Dhs 25 from the Yas Marina website.
The Porsche 918 Spyder prototype was brought to the UAE for display at showrooms in Dubai and Abu Dhabi. It was also used for passenger rides at the local race-tracks for potential customers as well as select members of the media. We were not invited.
The McLaren P1 concept car was displayed at an event in Dubai, after a similar event in Bahrain some time ago. The hybrid P1 has been confirmed to have 903 hp, out of which 176 hp are accounted for by the hybrid-electric motor supporting the twin-turbo V8. We were invited, but didn't go.
The mysterious new Range Rover, a car that we're apparently banned from driving, is going to have a new base model by the end of the year. Reports suggest the current 375 hp 5.0-litre V8 will apparently be dropped in favour of a 340 hp 3.0-litre supercharged V6. The supercharged V8 will remain as is.
Bankrupt supercar-maker Spyker claims they will return with a new model at the upcoming 2013 Geneva Motor Show. Dubbed the B6 Concept, it might be a Porsche 911-rival rather than a supercar-chaser.
And in a bit of public-relations blunder, the new Chevrolet SS is reportedly banned in Israel because "SS" was the name of the German Nazi secret police back in World War 2. Of course, the car isn't even on sale yet, and it's a simple badge-engineering job to fix this, assuming the car is even bound for this region. Word on the street is Arabs have no issues with the name.