Ford Mustang 2015 rendering based on spy shots

The all-new 2015 Ford Mustang is, according to rumours, going to be revealed by the end of this year. It has been caught on camera numerous times under heavy camouflage, but certain details are becoming apparent. Someone took those details and guesstimated how the car will look, and it should be pretty close to this.
Rendered by a certain chazcron on the Mustang6G forums, the sixth-generation Mustang will surly have a familiar front-end and possibly a similar rear too, although the proportions seem very off in these pictures, with an overly-low roofline and overly-large wheels.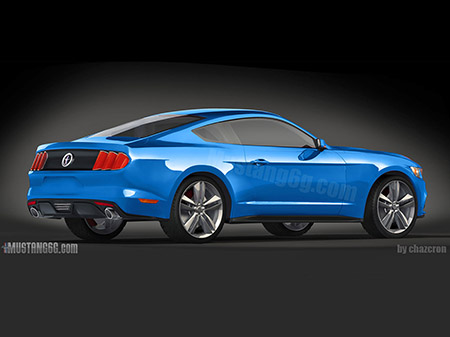 The next-generation 2015 Mustang is expected to feature four-wheel-independent suspension and handling to take on any sports car, while retaining V6 and V8 engine choices at launch.
Expect the 2015 Ford Mustang to reach Saudi and UAE shores as late as summer 2015, given how all their new models seem to have a delayed launch in the GCC, possibly due to high demand in the States.
Keep track of prices and updates in the Ford buyer guide.