First drive: 2014 Bentley Continental GTC V8 in the UAE

Another month, another Bentley. This GTC V8 is the fifth variant of the updated Bentley Continental GT we've driven in the past 18 months, and heck, it never gets old.
The drop-top version of the GT V8 looks just as good as any of its V12 brethren. There's the aggressive front bumper, the blacked-out grille, the "infinity" exhaust tips, and the red badges all signifying that this is a V8 model.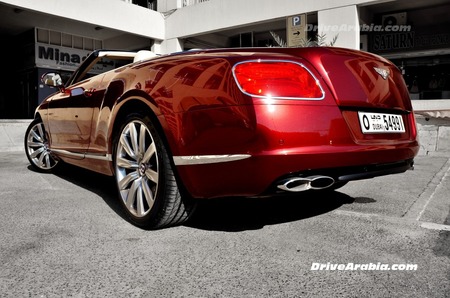 Inside, it gets exactly the same cabin as the priciest V12 models, custom-ordered in our test car with a beige-red colour scheme to complement the cherry exterior paint and the colour-matched fabric roof. With leather upholstery covering almost every inch of the uniquely-Bentley interior, the GTC V8 gives up nothing to the twice-as-expensive Mulsanne, at least in terms of trim and gadgetry. The VW-sourced touchscreen, the metal a/c vents, the real wood, the alloy shift-knob — it's all there, with no surprises. Built for only two adults to enjoy, there's maybe space for two small kids in the cramped rear seat, and enough boot volume for a week-long getaway.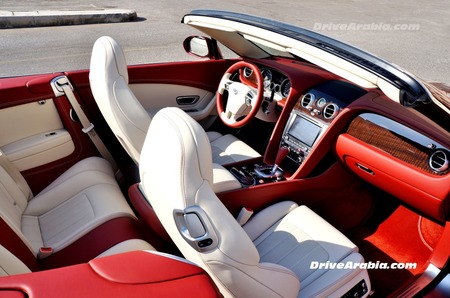 The "base" engine really is a proper bruiser. The 500 hp turbocharged 4.0-litre V8 feeds 660 Nm of torque to all four wheels via an 8-speed automatic, which is powerful in any language. And it feels ridiculously quick as well, able to outrun any muscle-car with grace. Smoky burnouts are impossible, but that would be uncouth.
Adding to the surprise package is the retuned suspension to compensate for the slightly-lighter motor up front. The difference can actually be felt, giving us more confidence on sharp turn-ins and fast exits with its chuckable nature, where the heavier GTC Speed would already be showing the first signs of understeer. With its weighted steering and pedals, the Bentley is easy to control precisely while bombing around curves. Thanks to all-wheel-drive and extra-wide tyres, there's very little drama.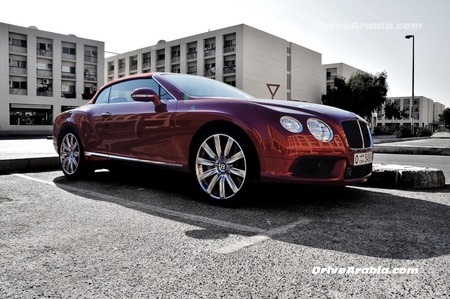 As for the comfort factor, the big Bentley rides firmly, but fairly smooth on most surfaces. It's also pretty quiet for a convertible, although muffled sounds of passing cars can sometimes be heard. Either way, all noises are somewhat muted.
The Continental GT range has been around for the better part of a decade now. The V8 adds yet another flavour to this immensely good line of grand tourers, and is one of the few instances where downsizing is actually a good thing.