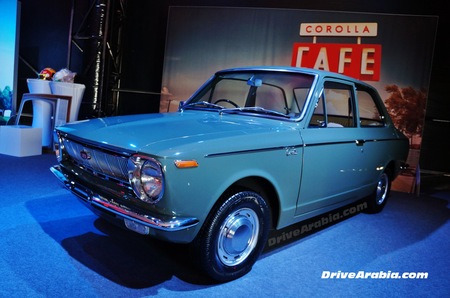 When we went to the 2014 Toyota Corolla launch event in Dubai, the last thing we expected to see was the original 1966 model. The fully-restored E10-generation coupe is a far cry from the Corolla of today, but in some ways, represents what the Corolla has been all about for nearly the past five decades.
According to Wikipedia, the Corolla was launched in Japan in November 1966 at a Japanese dealership sales channel called the Toyota Corolla Store. It was by no means Toyota's first small car, but some say it was timed perfectly to take advantage of the surge in private car sales in the mid-60s.
Available in both 2-door coupe and 4-door sedan form, the car was about the size of a current-gen Toyota Yaris Hatchback. The suspension setup consisted of front MacPherson struts and a solid rear axle, all supported by leaf springs.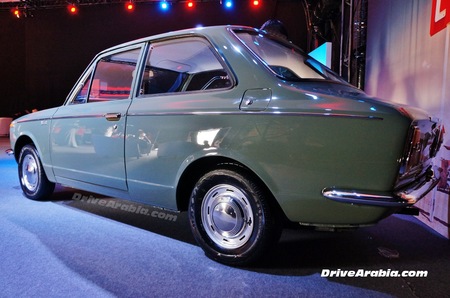 The engine was originally meant to be for the under 1000 cc for tax purposes, but was upgraded to 1077 cc to beat its rival at the time, the Datsun 1000. By August 1969, the engine was upgraded to 1166 cc, with higher models getting special twin-carburettors for more oomph. Power outputs over time ranged from 59 hp to 77 hp. The available transmissions were a 4-speed floor-shift manual or a 2-speed floor or column-shift automatic transmission, and all came with rear wheel drive. Ironically, floor-mounted manual shifters with as many as four gears were considered "truck-like" at the time, so it took time to gain acceptance among the public who were used to 3-speed column-shifters.
The first export market for the Toyota Corolla was Australia in late 1966, later going on to conquer America by 1968, retailing for a price of about US$ 1,700. And the rest, as they say, is history. About 40 million Corolla-badged vehicles have been built since then, including the original AE86, and it still has a 35% market share in its segment in the UAE.
Photos by Salma Sultana.