Jumeirah Cruisin' event last Friday in Dubai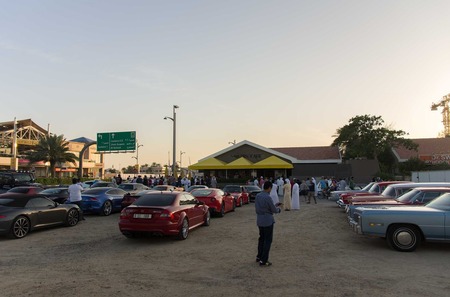 Hot on the heels of the first edition of the hugely successful Jumeirah Cruisin' was the second show, held last Friday afternoon at the Biker's Cafe. Attendance was by invite only, making for an exclusive event comprising a rich collection of exotic supercars, classic metal and superb custom bikes. For spectators, there were no entry restrictions.
As witnessed in the first edition, Jumeirah Cruisin was literally a traffic stopper, with a huge number of motorists on the beach road either slowing down to a crawl or even parking their cars and popping over to the café to have a look at the cars on display.
Dubai Police once again supported the event, bringing along two of their supercars, a Ferrari FF and Audi R8 V10. Other highlights of the show, apart from the custom bikes, vintage Vespas and classic Triumphs, included several car dealers showcasing supercars like the new Chevrolet Corvette, McLaren MP4-12C, Ferrari F12 Berlinetta, Lotus Evora S and the Fisker Karma.
The wide variety of classics included ones from Chevrolet, Cadillac, Ford and other American car makers as well as classic Jaguars, MG, Morgan, Porsches and even vintage Japanese models. Few contemporary tuner cars topped up the already varied list of exhibited vehicles.