News round-up: Nissan UAE aftersales, Valvoline oil launch, Porsche GT3 Cup & Bridgestone air-free tyres

This week's motoring news round-up includes one of Nissan's UAE dealers winning an aftersales service award, Valvoline launching a GCC-spec engine oil, the Porsche GT3's Dubai race conclusion, and Bridgestone's new air-free tyre.
The aftersales department of Nissan's UAE-based dealer Arabian Automobiles, has won Nissan's 'World Aftersales Progress Club' Global Award for the 6th year in a row, and has apparently won it 15 times since it was introduced in 1981. The performance metrics measured for the award include evaluations on parts sales, service sales, service retention, parts inventory management and customer service, among other criteria. A tour of the Nissan dealer's Deira facility revealed unique ideas such as the line-based drop-off of vehicles, custom-designed tools to handle certain jobs, and a new mobile awareness campaign to highlight counterfeit parts using a custom-fitted van.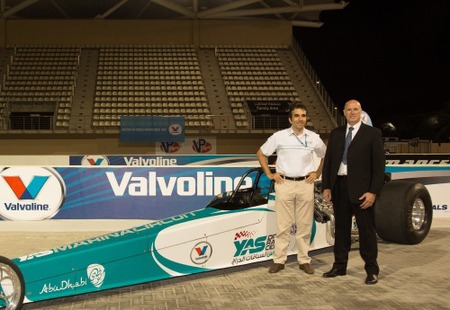 Automotive engine-oil brand Valvoline has introduced Engine Armour, their first line of fully synthetic engine oils developed specifically for Middle East markets. Via comparison tests and consumer feedback, Engine Armour's patented ThermalShield technology has apparently been proven to outperform most competing products when it comes to protecting engines and maintaining performance in the hot and sandy driving environments found in the UAE. Vavoline is also sponsoring the Yas Marina Drag Racing Centre.
Kuwait's Zaid Ashkanani secured his first race win in the Porsche GT3 Cup Challenge Middle East last weekend with victory in Race 2 of Round Two at the Dubai Autodrome in what was the closest contest of the series' fifth season so far. Starting from pole on the 16-car grid, Al Nabooda Racing's Clemens Schmid almost snatched victory on the final lap but the Kuwaiti managed to cross the line first with Saudi Falcons Abdulaziz Al Faisal coming in third.
Bridgestone has unveiled the second generation of their "air-free" concept tyre. It does not require filling up with air at all, since it has thermoplastic resin spokes mated to its rubber tread surface. The recyclable tyre isn't ready for big cars yet though, since the largest versions are still only fit for electric buggies and such. A version of the tyre was displayed at the Dubai Motor Show last month.