Tesla Model S electric car spotted in Abu Dhabi

Electric cars have yet to make an impact in the Gulf. The first one to pop in, the limited-range Fisker Karma, stalled before it even got started, although it was more due to a little thing called bankruptcy rather than any market dynamics here. The Lexus "performance" hybrids haven't done well either, with their high prices and lack of real performance gains. And Nissan keeps showing the Leaf in public, but cannot apparently make it adjust to our weather. But the one electric car the rest of the world is excited about isn't even offered in the UAE. That's the Tesla Model S. So we were surprised to spot one in Abu Dhabi the other day.
Tesla Motors' second model after the discontinued Roadster, the Model S is a large 5-door liftback, built by what is essentially a tech start-up company. First shown to the public at the 2009 Frankfurt Motor Show as a prototype, it hit the streets by the summer of 2012. Totalling 20,000 in sales so far, it even became the top-selling car overall in one or two European countries once it reached there in mid-2013, while handily beating out the cheaper Chevy Volt earlier this year in the United States.
Available in several variants with different battery sizes, the plug-in electric Tesla Model S Performance model equipped with an 85 kWh lithium-ion battery pack has an official range of 426 km, making it the electric car with the greatest range available in the market. The starting price of the 85 kWh model is the equivalent of Dhs 295,000 in the States, with top-spec prices going beyond Dhs 350,000. A cheaper base model, with a starting price of Dhs 260,000 and a 60 kWh battery, has a range of 335 km.
The Tesla Model S Performance model has a 416 hp (310 kW) and 600 Nm rear-mounted electric motor. The base model uses a 362 hp (270 kW) and 440 Nm motor. According to Tesla Motors, the electric car has a drag coefficient of 0.24 Cd, which was the lowest of any car until recently. And theoretically, it should be much cheaper to run than a petrol car, with fewer maintenance parts as well.
The Model S Signature model with an 85 kWh pack has a top speed of 201 kph and can do the 0-100 kph run in 5.8 seconds. The Model S Signature Performance model has a top speed of 210 kph and does the 0-100 kph deed in 4.4 seconds, while the base 60 kWh version has a top speed of 190 kph and does the 0-100 kph run in 6.1 seconds.
The lithium-ion battery consists of more than 7,000 battery cells for the 85 kWh pack. The battery pack, mounted under the cabin floor, uses Panasonic cells with nickel-cobalt-aluminium cathodes and is guaranteed for as long as 8 years. A replacement battery can cost as much as Dhs 40,000.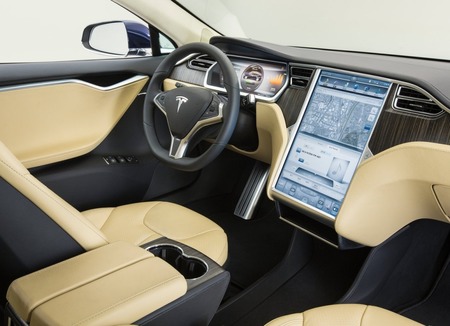 The car can be charged from any 240V power supply, but you'll have to leave the car plugged in overnight. The U.S. gets 480V "supercharger" stations along major highways for free charging, and these will charge it in 45 minutes, which is obviously a constraint if you own the car here and intend cross-country trips. The Model S furthers its techy status by having a 17-inch touchscreen as a centre console, foregoing buttons for most features. But the big smartphone-like car still takes just as long to charge up as your phone, which will limit its appeal to those who can afford to privately import one and keep it in their garage every night.