Comparo: 2014 Maserati Quattroporte S V6 vs Jaguar XJ V6 Supercharged

If you're the aging CEO of a well-to-do company and you like to be driven around, your ride of choice has probably gravitated towards default choices like the Mercedes-Benz S350L or the BMW 740Li. If you felt adventurous, you might even look at the Audi A8 3.0T, the Lexus LS 460 or, in a particularly down year, the Hyundai Centennial. But what if you've made your money a bit earlier in life, and you prefer to mostly do your own driving? You also like to not appear like an aging CEO around town, so you want a bit more style in your car than the traditionally-conservative choices. There's a couple of cars that fit the bill. One is the Jaguar XJ L, which got a new supercharged V6 version a year ago. The other is the Maserati Quattroporte, which got a complete redesign recently, and now comes with a turbocharged V6 option.
Boosted 6-cylinder engines are a relatively new phenomenon in a segment where a V8 used to be the minimum motor needed to stay respectable. Gone are the days when a V6 badge on your full-size luxury car was an embarrassment, because the two cars we tested head-to-head are easily quicker than several of their V8-powered rivals.
Style
Both of our test cars are extra-long in size, most of that length showing up in the rear half of the wheelbase. Both also boast sleek aggressive front-ends and sporty detailing, which are a bit at odds with the size of the cars, but then again, they look like nothing else on the road, each with its own distinctive look. The Jaguar has a slight edge here, with its more resolved styling, at least in profile view, although it's a matter of personal taste.
Space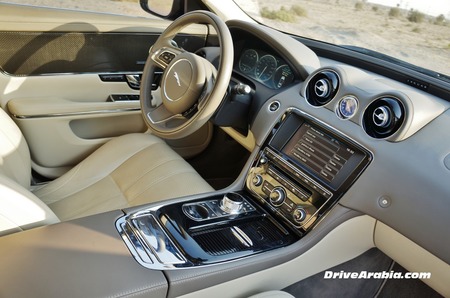 Both cars are ridiculously spacious inside, given their emphasis on rear-seat comfort. Both cars also feature generous amounts of leather surfaces, LCD screens, metallic trimmings and other premium touches. The options-filled Jaguar additionally has a dual-screen rear entertainment system, a panoramic glass roof and few more doodads than the pricier Maserati.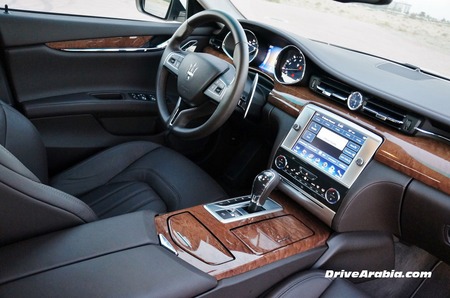 The Jaguar also has some really nice bits, such as the soft-lit chrome a/c vents, the reclining rear seats and the rising gear-selector, but we actually liked the general ambience in the Maserati a bit more, with its obscene use of wood, the fancier seat upholstery and edgier chrome detailing. The Italian also happens to have a much bigger boot.
Pace
The Maserati has a clear advantage when it comes to power, with its 3.0-litre turbocharged V6 making 404 hp and 550 Nm of torque, compared to the Jaguar's 3.0-litre supercharged V6 that makes 340 hp and 450 Nm of torque. Surprisingly, both cars managed the 0-100 kph run in 5.9 seconds in our test, although we do believe the Quattroporte will actually be quicker than the XJ once speeds go beyond 100 kph, eventually topping out at 285 kph while Jag stays limited to 250 kph. However, the driving experience is very different between the two.
The Jaguar XJ L is very impressive when driven in isolation. It accelerates smoothly, offers decent feedback from the mildly-weighted controls, and handles very well, with limited body roll and good grip levels. The limits are admirable, yet easy to manage. It is also more frugal, burning 12.6 litres/100 km in our time together, compared to the Maserati's 15.2 litres/100 km.
On the other hand, the Maserati Quattroporte is noticeably sportier. Compared to the XJ, it's a jumpier animal in its responses, with a throatier exhaust note and a tighter handler. Its grip limits are a fair bit higher, and body roll is relatively lesser, so we could drive it harder than the big cat without reaching its limits, although we wish its weighty controls offered more feedback. Ironically, with its growling motor and trigger-like paddle-shifters, it felt a lot like driving a sedan version of the Jaguar F-Type.
Grace
Riding in these stately limos is satisfyingly comfortable, although their sporty sides do poke through in some aspects. While both cars block out wind noise well and smoothen out most road surfaces, they both let in a smidge more road noise than we'd like from an uber-luxury car.
Both ride a bit firmly as well, although the Jaguar does allow more suspension travel than the Maserati when driving over undulations on the highway, ultimately making the XJ more compliant than the Quattroporte by a hair.
Verdict
We didn't expect it to be this hard to pick a winner, but we didn't expect these two cars to be so vastly different in their driving characteristics. While both cars are fine examples of long-wheelbase luxury sedans, the Maserati Quattroporte S is clearly the better driver's car, injecting a welcome dose of exciting noises and reflexes to a traditionally conservative segment. For that pleasure, you have to pay Dhs 440,000 for a car trimmed like ours, or more if you want to get rear DVD screens and such. Comparatively, the Jaguar XJ-L V6 has the edge when it comes to getting more bang for your buck. It's great to drive in its own subdued way, while ringing the register at about Dhs 350,000 for a decently-specced version. For cars that put so much emphasis on rear-passenger comfort, the actual driving experience may take a back seat for potential clientele who've made their money by managing it well.
For detailed reviews of each car, check out the Maserati Quattroporte road test and the Jaguar XJ road test.