Mini-cars do poorly in "small overlap" crash test

The Insurance Institute for Highway Safety in the United States runs a unique "small-overlap" crash test where they make all test-subject cars to crash into an immobile object with only part of the frontal area of the car. It is supposed to replicate what happens when the front corner of a vehicle collides with another vehicle or an object such as a tree or a lamp-post. In the test, 25%t of a vehicle's front end on the driver's side strikes a rigid barrier at 64 kph. And the 11 mini-cars tested performed poorly, although it's not a huge surprise.
Out of nearly a dozen models tested, only one vehicle scored a passable rating on the tough test that even larger cars struggled in since it was instituted in August 2012.
The Chevrolet Spark was the only car out of 11 to net an "Acceptable" rating in the small-overlap test and the only one to be named a 2014 Top Safety Pick. The IIHS has four rating levels, namely Poor, Marginal, Acceptable and Good.
The Mazda2, Kia Rio, Toyota Yaris and Ford Fiesta all received "Marginal" scores, while the Mitsubishi Mirage, Nissan Versa/Sunny, Toyota Prius C, Hyundai Accent, Fiat 500 and Honda Fit/Jazz all got "Poor" ratings.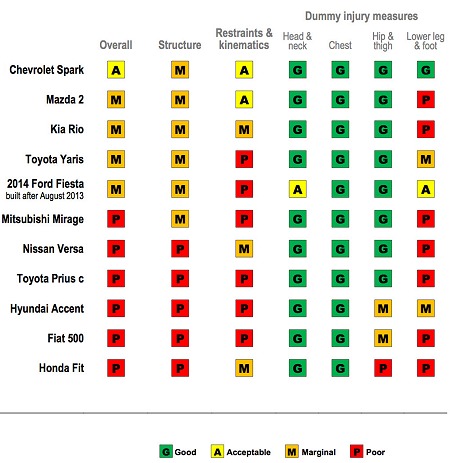 Mind you, these ratings are for models with U.S. specifications. Our GCC specifications are usually different, especially for cars coming from Asian-based factories.