Chevrolet Silverado Reaper 2015 possibly coming to the UAE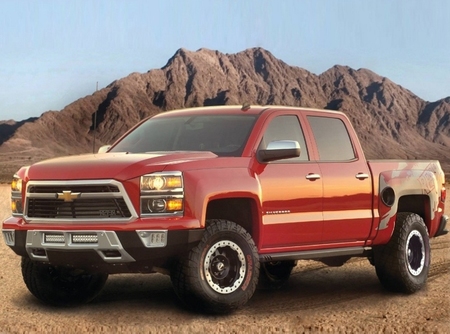 We in the Middle-East are spoilt for choice when it comes to choosing a nice piece of metal to hit the dunes. Of course, among pickups, there's only one top dog, from the Ford camp. However, the folks at tuners Lingenfelter and Southern Comfort Automotive ask you to think otherwise with their Silverado-based Chevrolet Reaper.
While the name is filled with vengeance, we're pretty sure the kitted Silverado will easily tame the road less travelled too. Basically, the body is restyled with a new front fascia, skid plates and bumpers. They are complemented by 20-inch wheels wrapped in 33-inch off-road tyres. Then there's LED running lights, a Corsa exhaust, racing suspension from Fox and a custom gauge pack.
We can't help but mention that the graphics do remind us of the rival Ford Raptor. Optional extras from Lingenfelter include 17-inch beadlocked wheels with off-road tyres, as well as a supercharger and engine upgrade.
The official website states that the Reaper conversion will be available to buyers through select Chevrolet dealers. We're expecting more images and information to flood in as soon as the vehicle makes its debut at the National Automotive Dealers Association next week. Word is the kit will apparently be available in the UAE via certain GM dealerships.