First drive: 2015 Mazda 3 hatchback in the UAE

Mazda's been on a roll for the past year, launching all-new models that use an all-new design language that basically adds luxury-car styling cues that go well with their sporty handling. Their latest introduction is the redesigned Mazda 3, a car we expected to hit above its weight. And from what we could tell from our briefer-than-brief encounter, it didn't disappoint.
Galadari Automobiles, the UAE dealer for Mazda, held an evening launch party for the Mazda 3 in Dubai. Ignoring the booming and banging of the "nightclub" atmosphere, we headed straight for the hatchback on display.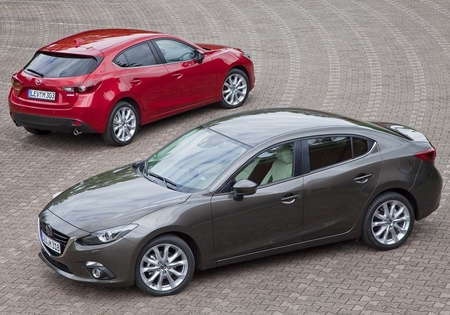 The top-spec hatch looks great from most angles, as long as you don't notice the long front overhang. To casual observers, it could easily pass for a rival to premium hatchbacks from Mercedes-Benz or BMW. The Mazda 3's sedan version, although somewhat attractive, cannot quite pull off the same effect, looking more like a Mazda 6 caricature.
Inside, the interior is definitely a better effort than in Mazda's last few models, with clean lines and simple shapes that don't end up looking dull. There's good use of soft-touch materials on the upper dash and front door sills, with padded armrests and inserts on all doors. The two-tone leatherette in the top model looks great. A detachable-looking screen rests on the dash, a style pioneered by the latest BMW 3-Series, while a clear piece of plastic above the gauge cluster acts as a cut-rate heads-up display.
It's got good space inside too, certainly more than the Ford Focus in the back seat, though not as much as the traditional choices from Nissan and Toyota.
And then we drove it, for five minutes, around the block. In that casual drive, everything felt right. The steering was mildly weighted with a bit of feel. The suspension was smooth, yet did not bounce over speed bumps. The gearbox was smooth and did not do anything untoward. The brakes were progressive, and stopped the car smoothly without drama when we spotted the aforementioned speed bumps a little late in the dark. The 2.0-litre engine didn't sound overly loud at all as we revved it hard in an effort to get the car moving quicker, but it was understandably weighed down with three passengers, so we'll reserve judgement for now.
Notice that we used the word "smooth" a lot in describing the way it drives. We need more time with the car to figure out how comfortable or sporting it is in various other situations, but our first impressions of the Mazda 3 are absolutely positive, at least for the Dhs 90,000 top-spec version we drove.
Photos by Salma Sultana.
For detailed prices and specs, visit the Mazda buyer guide.