First drive: 2014 McLaren 650S Spider in the UAE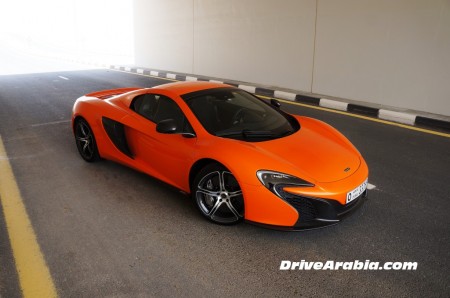 "Why's everybody staring?" asks my passenger. "Of course everybody's staring. It's a McLaren." "But no one's taking any pictures." And that's true. When we had the previous MP4-12C parked anywhere, it caused hordes of impromptu-paparazzi to teleport from out of nowhere to pose with the car and take photos. This time, our 650S Spider tester should've been even more of a selfie-attraction, with its P1-derived front-end and bright-orange paintjob. But based on what we noticed, maybe McLaren-fatigue is setting in among the general public, as the 650S doesn't appear to be anything more than a facelift of a 2-year-old model. Then again, most of the general public haven't actually driven the 650S.
The UK-built McLaren 650S is based on the existing McLaren MP4-12C, but the company claims that 25% of the parts are new. The 650S shares the 12C's carbon-fibre composite chassis and is still powered by a twin-turbo 3.8-litre V8, sending power to the rear wheels via an updated 7-speed dual-clutch automatic gearbox. The motor's been upgraded to make 641 hp now (or 650 PS in Euro-speak, hence the badge), along with 680 Nm of torque. It has a claimed top speed of 333 kph, and can do the 0–100 kph in 3 seconds flat, and reach 200 kph in 8.4 seconds.
Of course, in our tests, we couldn't even break the 4-second mark on the run to 100 kph. We'll chalk that up to a fairly new engine and the hottest Ramadan weather in forever. Or maybe it was just fasting like us.
Make no mistake though, it's still a very fast car. There's a jumble of buttons and knobs, all of which we never really deciphered, but we did manage to get into "Sport" mode which allows for more aggressive gear-shift patterns, and that's the mode you need to be in to experience the rocket-grade take-off g-forces, accompanied by the loud hissing grunts of the turbo V8. And it feels quicker to 250 kph than any other "fast" car we've ever driven. There's also a "Track" mode to disable the electronic nannies further, should you want to kill yourself.
The "ProActive" hydraulically-linked suspension is supported by springs that are 22% stiffer up front and 37% stiffer in the rear, something we instantly felt in the harsher ride. While we loved the smooth ride on the 12C, the 650S rides firmer, more jittery on most road surfaces, but still easily bearable.
Handling? Yes, it handles. It handles far better than any sane driver needs it to handle. You turn the firm feedback-filled steering wheel wherever, and it turns, even at speeds well into the triple digits. And now with even wider tyres, its grip will make you think it has all-wheel-drive.
McLaren also claims better downforce at speed, while carbon-ceramic brakes were fitted on our car. In combination with the "air-brake" spoiler that pops up, braking power is tremendous, and your brain will definitely get squished on the front of your skull. Ceramic brakes in general are annoying in street-driving though, doing nothing on light application, and requiring a firmer pedal-push even at low speeds, leading to sudden jerky stops.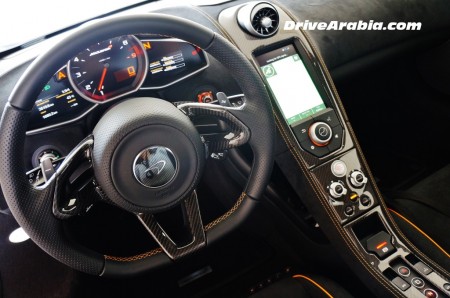 The lightly-padded cabin is a noisy place to be in, and that's with the roof up. But it's trimmed in high-quality materials, identical to the 12C, with leather, alcantara and carbon-fibre being the custom trim choice in our tester. The "portrait" touchscreen is simple, but takes a while to figure out where all the functions are. Once you figure it out, it's easy enough to use, even though we soon noticed our car's navigation did not have any locations loaded, aside from road names. We did appreciate the poor-quality rear camera though, a new feature for McLaren, to go with the parking sensors. What we didn't appreciate were the high door sills, something that will never go away, given the tub-chassis construction. But the front boot swallows up a week's worth of groceries with ease.
So is the pricier 650S a better car than the outgoing 12C? Well, if you're actually a track-warrior hell-bent on beating your own lap times, then the 650S will probably be satisfying. But it's a slightly less-satisfying daily driver, with its firmer ride and annoying brakes. Maybe the "upgrades" should be optional, as the McLaren 12C Spider we last drove had pretty much hit perfection in terms of balancing track and street life.
For prices and specs, check out the McLaren buyer guide.