First drive: 2014 Chevrolet Silverado Z71 in the UAE

Positioned as a "lifestyle vehicle" rather than a work-truck, the Chevrolet Silverado has garnered a following in the UAE among a certain subset of the population, more so than all its rivals in the full-size truck segment. There's a new version in town, launched late last year, and while it may look underwhelming in terms of visual changes, it's actually better than ever.
Our tester was the Silverado Z71 Crew Cab, which means it's a 4-door model with offroading pretensions. It's a good-looking truck, with massive dollops of chrome, alloy wheels and clean lines. It's also very big, but we'll get to that later.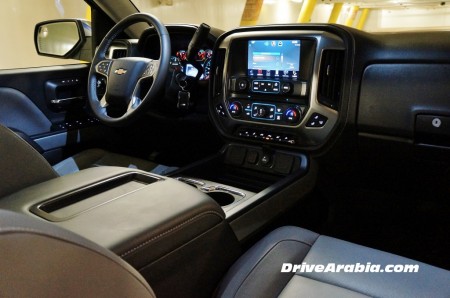 Inside, it's a hands-down class-leader, at least in this top-spec version. Whereas the previous one was a hard-plastic tub, this new one is generously trimmed with a mix of stitched leatherette and soft-touch materials, along the upper front doors and all armrests, over the dash, and even on the dual glove-box covers.
There's tons of space, with airy flat seats both front and back. There's lots of storage options, including a cavernous "ditch" between the front passengers, in the space freed up by having a column-mounted gear-shifter. And then there's that massive bed out back, though not having a cover on it limits its use for us city-dwellers, unless we have a sofa to move.
Tech-wise, there's a good-sized touchscreen, even if it looks lost on the expansive dash. It responds well, basic features are easy to figure out, though we were a little lost on more intricate stereo and nav settings. Our car also came with Bluetooth, three USB ports, collision warning, power-adjustable pedals and front seats, and lane-departure warning.
The Z71 is powered by a 355 hp 5.3-litre V8, churning out 519 Nm of torque. Mated to a 6-speed automatic, it also comes with the option to switch between two-wheel-drive and all-wheel-drive, and has low-range gearing. It's adequately powerful for a vehicle of this size, with a burst of speed coming in at higher revs. Fuel consumption is high, but no more than any other V8 fullsizer, at about 19 litres/100 km, as shown on the trip computer.
On the road, the ride quality is what could best be described as damped jitter on most road surfaces due to its truck underpinnings, and yet, larger bumps are flattened without drama. It's also very quiet at highway speeds.
We were initially uncomfortable with its size, as just one doofus double-parking on a single-lane road makes it a challenge to squeeze through, but the fact is we did manage to squeeze through every time. All-round visibility is fine, with big mirrors and a rear camera. Slipping the long truck into parking spots is easy enough, with a lot of back-and-forth, but it will still stick out of most standard spaces, and opening the door with another fullsizer parked next to you becomes a worry.
But out on the open roads, it actually drove better than we anticipated. Sure, the steering is vague and the body-roll is very noticeable, but it can reach surprising speeds on long corners, with decent body control, no awkward mid-corner shenanigans, and decent grip levels. Floatiness only seems to crop up only on speed bumps and nowhere else. Even the brakes are fairly good, spongy in feel, but offering reasonable stopping power.
We didn't take it off-road due to lack of time, but clearly it is too long and low to jump steep dunes. However, it has all the right equipment, and the ground clearance, to venture into the desert, provided flatter routes are chosen. Sometimes it's easier to go around certain dunes rather than on top of them.
The Chevy Silverado is a good effort, with obvious improvements that only become visible on closer look. Clearly it is big, and you have to keep that in mind before venturing into any random parking structure, but out on the road, it's as good as it gets for a GM truck.
For detailed prices and specs, visit the Chevrolet Silverado buyer guide.