First drive: 2015 Lexus RC 350 and RC F Coupe in the UAE
Lexus continues its transformation for a luxury brand known for conservatively-styled comfortable cars to aggressively-styled sporty cars with the RC Coupe, essentially a 2-door version of last year's new IS 350 sedan. And following the demise of the IS F, there's the RC F Coupe debuting in the UAE as well.
The new-for-2015 Lexus RC 350 Coupe starts off with a regular model powered by a 314 hp 3.5-litre V6 mated to an 8-speed automatic and rear-wheel-drive. The RC 350 F-Sport version adds adaptive suspension, unique bumpers, nicer wheels and a mesh grille, among other items. And the RC F gains an upgraded 471 hp 5.0-litre V8, sports seats and an aggressive body that includes lots of vents, unique bumpers and special wheels, among several performance upgrades.
Inside, all models are somewhat identical, with fairly generous use of soft-touch materials and leatherette-padded surfaces, more so than the IS sedan. It's still less plush than an equivalent BMW, as evidenced by the hard-plastic glove-box cover and lower door panels, but these are things the regular consumer won't even notice. However, while space up front is fine, it is almost non-existent in the rear. The standard RC's boot space is fine, but the RC F has a spare wheel bulging out of the cargo floor.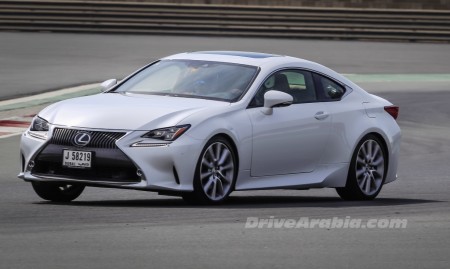 At the Dubai Autodrome racetrack, we drove the standard Lexus RC 350 Coupe first. It offers up just-adequate power, with a fairly conservative exhaust note, muffled for the most part so as to be a good highway cruiser. The gearbox does well, even if left in automatic mode. As the turns got twisty, the car handled itself cleanly with the ESP in Sport mode. Body roll was present but limited, while grip was fairly good. We found the steering firm and responsive but lacking in feel. The brakes were good and easy to modulate. All in all, the handling was neutral, verging on understeer. The car refused to shake its tail even while turning into corners under braking or zig-zagging between cones, and we suspect a lot of it has to do with the conservatively-tuned electronic nannies, just like in the IS 350 sedan.
Switching up to the Lexus RC F, the difference is noticeable. The exhaust note is much more aggressive, although not as loud as you'd expect this kind of car to be. On hard throttle, power builds up linearly rather than being shoved in right at the beginning, so the real push is felt near the redline. Corners can be taken at higher speeds with less body roll, no doubt aided by its adaptive suspension. The slotted-disc brakes are fairly strong. But the steering only gains a tiny bit more feedback compared to the regular RC's nearly-numb wheel. And even in track mode, it is impossible to get the car's tail swinging. As long as you keep the ESP nannies on at any setting, there's no oversteering fun to be had. Just clean high-speed progress.
The Lexus RC Coupe is a very attractive proposition, with its relatively-competitive pricing and overly-extroverted styling. The cars still fall short when it comes to outright practicality as well as accessible performance, but they are well-placed in the price-versus-value hierarchy among entry-level luxury coupes, and being a Japanese product, much less likely to give you reliability headaches in the long haul compared to its German rivals.
Some photos by Mashfique H. Chowdhury. Others provided by Lexus.
For detailed GCC specs and UAE prices, visit the Lexus buyer guide.