2017 Land Rover Discovery redesign debuts at Paris Motor Show
Land Rover revealed their latest iteration of their all-terrain SUV, the 2017 Discovery, at the 2016 Paris Motor Show.
Besides having the name revert to "Discovery", replacing last generation's LR4 nameplate, the SUV has also moved on from its image of being a just a utilitarian off-roader to something more high-fashion. Design chief Gerry McGovern states that "Land Rover is going through a transformation," and that they are seeking a premium profile for the new Discovery.
The fifth-generation Land Rover Discovery adopts the aluminium-intensive D7 architecture used on the current Range Rover and Range Rover Sport models, with double wishbone suspension up front and a multi-link rear. It uses a largely aluminium body shell, but unlike its more upscale siblings, it uses steel subframes for added strength. Models will be offered with a choice of five or seven seats.
The infamous boxy past of Land Rovers may have been abandoned, but the off-road credentials remains. While entry and departure angles as well as ground clearance are as good as its predecessor, the Discovery is also equipped with the latest Terrain Response system. Wading depth is now an incredible 900 mm, an appreciable 200 mm increase over the last model, likely with the air suspension raised.
In terms of proportions, the new vehicle is very similar to the outgoing LR4. Albeit, it is marginally longer at 4,970 mm, slightly wider at 2,220 mm and some 107 mm has added to its wheelbase; The revamped SUV is also shorter at 1846 mm. By abandoning the body-on-frame chassis and other enhancements, the new Disco is almost 480 kg lighter. The new bodyshell is also more aerodynamic with a drag coefficient of 0.33, and is equipped with active grille shutters and an air suspension which can lower itself at speed to help aerodynamics.
The interior, as before, has three rows of seats, except this time they are all electrically powered and can be operated remotely via a smartphone app or from the trunk. Dropping all the rear seats allows for a total of 2,406 litres of load space or up to 1,137 litres behind row 2 alone.
Land Rover's InControl Touch Pro infotainment system is highlighted by a large 10-inch touchscreen with 'Dual View' technology. It will be accompanied by 3G WiFi hotspot system that can accommodate upto eight devices, nine USB ports, and six 12-volt chargers. You also can be seamlessly integrated with iOS and Android phones; and a 14-speaker Meridian digital surround system will take the sound of music to new levels.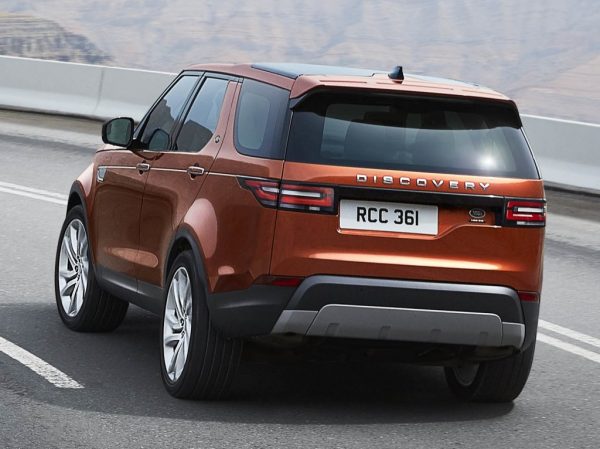 The predecessor's split rear tailgate has been replaced for reasons of cost and sealing difficulties. Instead you have a top-hinged tailgate with an aluminium picnicking/standing/seating plate, which folds out of the floor and can hold up to 300 kg. The air suspension will also allow ride height to drop by about 40 mm to aid occupants' ingress and egress.
As for powertrains, the Discovery receives Jaguar Land Rover's efficient range of four and six cylinder petrol and diesel engines including the 335 hp 3.0-litre supercharged V6 that produces 450 Nm of twist that will help propel it from standstill to 100 kph in 7.1 seconds. All motors are coupled to a ZF 8-speed automatic, with a choice of single or two-speed Torsen-based torque-biasing centre gearing. Towing capacity is limited to 3,500 kilograms. Two turbodiesel motors, one with a 2.0-litre displacement that makes as much as 237 hp and the other with a 3.0-litre with 254 hp will also be available in some markets.
The all-new Land Rover Discovery will go on sale in mid-2017. An extensive choice of 17 different colour schemes and 12 wheel choices, up to 22 inches in diameter, will be offered. To celebrate the launch of New Discovery, an exclusive First Edition model limited to only 600 units will be offered in the UK, showcasing some of the major design and technology features. Prices will start at the equivalent of Dhs 180,000 in the United States, but considering the outgoing model starts at Dhs 250,000 in the UAE, the GCC may be looking at prices closer to Dhs 300,000 for a well-specced model.