First drive: 2017 Bugatti Chiron in Portugal
This is a case where it would be all too easy to write a paint-by-numbers story. Every single measure and statistic relating to the Chiron is so plain absurd that the numerals in themselves make interesting reading. Fifteen hundred horsepower, 1600 Nm, 0-200 kph in 6.5 seconds, 420 kph (electronically limited for safety!), 16 cylinders, four turbochargers… and even that's barely scratching the surface.
How's this? The W16 engine can suck down 1,000 litres of air per second and circulate 800 litres of coolant and 120 litres of oil per minute, while the active surface area of all six catalytic converters is equivalent to 30 soccer pitches. There are no less than 50 ECU chips littered around the car. Fifty!
Even the valves for the bespoke Michelin tyres had to be specially designed, as they experience centrifugal forces of up to 3,800G at the speeds the Bugatti is capable of.
But merely restricting our focus on digits would be cutting the Chiron – a bewildering showcase of cutting-edge design and engineering – a dud deal. We already know from past experience that its Veyron predecessor had an uncanny ability to make 1001 hp and a 400 kph-plus v-max – substantially more of both in subsequent Super Sport and Vitesse iterations – completely accessible, and not nerve-wracking in the slightest.
So, for Bugatti to have now developed a car claimed to be "25% better everywhere" represents a no less ground-breaking feat than the Veyron was when it launched in 2005. But is the Chiron truly 25% better everywhere? Read on…
When you consider that most other cars that one would think of as eye-wateringly rapid – such as the Lamborghini Aventador S, Ferrari F12 and McLaren 720S – make do (quite nicely, thank you) with roughly half the power and torque of the Chiron, you begin to get some idea of how completely over the top it is.
The thermal build-up associated with generating the Chiron's monstrous outputs presented the design/engineering team with great challenges in terms of cooling and airflow management. There are no less than 10 radiators scattered throughout the car, while the distinctive 'eight-eye' headlight clusters incorporate ducts that feed cooling air to the massive AP Racing front brakes (420mm carbon-ceramic discs, sheathed within a lightweight heat shield).
Bugatti's engineers strived to chase every single excess gram out of the Chiron, and the only 'heavy' part on the car that CEO Wolfgang Durheimer greenlighted was the chunky solid silver Bugatti badge on the grille. The nameplate is etched in 3D letters and the badge is hand-enamelled, for added authenticity.
A single glance at the accompanying images is sufficient to glean the Chiron has a lot more visual 'beast' about it than the rounded-off Veyron. The eight-eyed face – retaining the familiar horseshoe grille, obviously – is substantially angrier, while the huge carbon-fibre side panel that extends from the A-pillar to the rear of the car has a crisp and pronounced shoulder line that adds muscularity.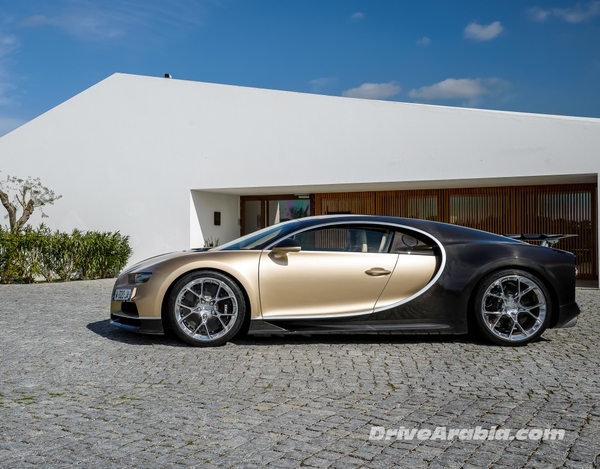 Design director Etienne Salome says he and his team initially experimented with a 'longtail' design (a la McLaren F1 GTR LT), but they opted instead for an aggressive cutaway rear end that mimics Le Mans LMP1 cars. As with every element in the Chiron, this, too, is functional as it optimises heat extraction from the engine bay.
The lightweight titanium exhaust system has six outlets, four of which exit aft, with the other two pointing downwards and blowing over the diffuser to maximise aerodynamic downforce. The Chiron's relatively flat underfloor incorporates strakes to further optimise airflow, and there are NACA ducts and additional intakes to cool the powertrain and 400mm carbon-ceramic rear brakes.
The Chiron is 40mm wider than the Veyron, which Salome says is "huge in design terms", and its stance is made even beefier than its predecessor by an enlarged footprint (it wears 285/30 R20 boots at the front and 355/25 R21s at the rear).
About 50% of the 450 Veyrons sold were ordered in duotone colour schemes (with the bonnet and fenders in different shades), but in the Chiron's case the two-tone treatment is executed differently, with a single hue used across the entire breadth of the car to emphasise its width.
Another element that adds to the impression of width is the 1.6-metre long single-beam taillight (Salome calls it the Chiron's "kiss goodbye" signature), which comprises 82 super-red LEDs that combine to appear like a single continuous beam of light.
Glaring menacingly at me at the international launch venue in Lisbon, the Chiron looks impossibly low and wide, and its visual drama holds much promise for the upcoming drive route I'm about to embark on, comprising freeways, Portuguese backroads (surfaces of which are dubious in many parts) and even a couple of stretches of rough cobblestones.
Clambering in and out of the car is a slightly awkward exercise – even by hypercar standards – as the positioning of the front doorsill means you need to just about fold your legs in half to get them inside the cabin. Once in situ, there's ample headroom and a great feeling of spaciousness (much more so than in an Aventador S, for example), but your left leg is a little uncomfortably hemmed in by the curved sidesill – albeit less so than in the Veyron.
As a whole, the driving position is much better than was the case in its predecessor, with the steering wheel and pedals now in line with the driver – not slightly offset, as before. The layout of the cabin is symmetric, with driver and passenger ensconced within their own compartments – a design element inspired by the iconic Bugatti Type 57SC Atlantic.
A curved, illuminated C-bar – replicating the 'C-line' on the flanks of the car – divides the occupants, and this is claimed to be the longest light conductor in the automobile industry.
Design chief Salome says the aim with the Chiron was to have a cabin ambience that matches the innards of a premium luxury limousine, and we feel the execution is a success. Unlike the Veyron, whose cabin was blighted by some cheap looking (and feeling) VW Group switchgear and stalks, this time around, everything is bespoke.
Anything that looks like metal, carbon-fibre or leather is indeed that. There are no nasty looking plastic bits poached from elsewhere, and the result is pleasing to the eyes and fingertips. Everything you touch exudes quality, and each control element has a lovely damping/weighting to it.
Particularly delectable are the four aluminium knobs for the HVAC settings that reside on the ultra-slim floating centre console. Housed in the central portion of each of these knobs is a mini display screen for each setting. In case you're not too concerned with air-con/heater info, there are various menus you can toggle through (via a switch embedded in the bottom knob) whereby you can choose other info to be displayed, such as the v-max achieved on your last trip, maximum power used, and so forth.
Incidentally, the maximum speed you can achieve with the 'regular' key in the ignition is 380 kph, with the full 420 kph quota only accessible via a 'Speed Key' housed in a slot within the sidesill.
Perched behind the lovely flat-bottomed, three-spoke wheel (whose frame is crafted from milled aluminium), you're faced with an instrument cluster that houses a central analogue speedo calibrated to 500 kph (when was the last time you saw one of those?), and it's flanked by a pair of virtual graphics that can be configured in various ways, depending on what info you want in front of you.
The only things I was really interested in were the tacho, and an additional virtual dial nestled within it that displays how much of the 1,500 hp quota you're currently deploying. Suffice to say, on public roads you won't get too far past 600 hp on most occasions.
The 8.0-litre W16 engine generating all this grunt is so dimensionally massive (it alone weighs over 440 kg) that when you see it in isolation you could be forgiven for thinking it came out of a tractor. That's until you take in the quartet of turbos hanging off the gargantuan block, plus the lightweight carbon-fibre intake manifold and labyrinth of pipes enveloping it.
It's hard to describe the sonic signature of this titanic powerplant, as there's such a rich assortment of noises emanating from behind your ears that you need to focus just to take in all of them. There's some induction hiss, a bit of wastegate whoosh, the muted chatter of 64 valves opening and closing, plus a host of other sounds that are difficult to precisely pinpoint.
The engine note itself ranges from a bassy rumble at idle, a jet-plane/vacuum cleaner whine at light throttle loads, and a thunderous bellow as you begin to unleash its inner beast. The W16 is always vocal, and at even cruising speeds in the 140-160 kph range, you need to raise your voice by a few decibels if you want your companion to hear what you're saying.
Being put in charge of 1,500 horses is a task one initially approaches with discretion, but confidence builds quickly as the power delivery is encouragingly smooth and progressive, and traction levels from the all-wheel-drive chassis with its electronically controlled diffs is prodigious.
The Chiron retains a quartet of turbos, as per the Veyron, but they're a massive 69% bigger than the blowers in the oldie and puff out up to 1.85bar of boost, which is obviously a high figure for a road car.
Fitted as is, it would have been a recipe for massive lag, so Bugatti's boffins developed an elaborate two-stage system whereby only one turbo per bank of eight cylinders is activated at low to middling revs. The second one kicks in at 3,800 rpm to rapidly spin the engine up to the 6,700 rpm at which peak power is generated.
The transition from twin-turbo to quad-turbo mode takes place seamlessly as the flap that opens up to channel exhaust gases to the secondary turbo begins to partially do so from 2,000 rpm, with the result that the latter has already gained some rotational momentum by the time it's called into action.
The distance over time equation is annihilated with such impunity by the Chiron that a complete recalibration of your brain is required. Although response below 2,000 rpm isn't electrifying, once past this threshold, anything over half-throttle almost instantly propels you to speeds 50 kph (and more) faster than you'd be doing in a 'conventional' hypercar.
Two hundred and fifty klicks per hour is dispatched with utter disdain and even 300 kph flashes past absurdly quickly (13.6 seconds). Three-oh-five was the highest reading we saw on the speedo as, under today's real-world conditions, anything more wouldn't have been prudent.
Straights shrink, corners arrive much earlier and you end up carrying much more momentum into them than you would be in anything else. But here's the thing: the experience is never intimidating. The Bugatti has great inherent balance, and invites you to get on the gas hard and early – even out of second- or third-gear corners.
Do this and you'll find the electronic diffs and limpet-like Michelins magically convert mountains of torque into forward motion. There's no momentum-sapping tyre scrub or ESP intervention – at least none that's perceptible.
Unlike the one-size-fits-all Veyron, the Chiron has adaptive suspension with five modes – 'EB' (short for Ettore Bugatti, and essentially a 'comfort' setting), 'Autobahn', 'Handling', 'Top Speed' and 'Lift' (to negotiate driveways, speedhumps etc).
Even with the basic 'EB' mode selected via the twist knob on the steering wheel, the car remains uncannily flat – but never jarring, even over rough cobblestones – when you're going at it. And while the steering in the Veyron wasn't the most communicative, the Chiron's electrically assisted set-up is deftly weighted and has a nicely textured, analogue feel to it.
Turn-in is crisp, and you're always aware of how much grip there is to play with. Even when corners tighten up unexpectedly there's reassuring front-end bite that enables you to adjust your line in an instant. The only downside is a woefully large turning circle – but that's not a huge price to pay.
'Handling' mode sets the steering, suspension and chassis electronics for maximum agility, and permits some degree of drift action (you can even deactivate the safety net altogether), but the basic limits of the Chiron are so high that you'd need a few loose screws upstairs to try and tap into this anywhere other than a disused airfield or racetrack.
In addition to altering chassis and drivetrain settings, the different drive modes also tailor the angle of attack of the huge adaptive rear wing accordingly (it sits at -10 degrees when retracted; 3 degrees in Top Speed mode; 10 degrees in Autobahn and 14 degrees in Handling).
But the real party trick is when you stand on the brake pedal as hard as you can at, say, 250 kph. This triggers the wing to pop up at 49 degrees and serve as an airbrake. Your eyeballs nearly escape from your cranium when you experience this from behind the wheel. This level of speed-shedding simply doesn't seem feasible in a road car.
On a good surface, you can wipe off 300 kph of momentum in 275 metres, and even take your hands off the wheel while doing it (not that you should, of course). There's no squirming or deviation from straight-ahead under a full ABS stop.
Arguably the most head-scratching thing about the Chiron is that it seems to hide about 500-600 kg in a place where you can neither see or feel it. The Bugatti's immense drivetrain, brakes, cooling systems and armoury of electronics means it tips the scales at 1,995 kg (and that's without oil, fuel or coolant), yet you'd be hard-pressed to guess its immense girth from behind the wheel.
Manhandling it through the twisties, it feels more like a 1,500 kg projectile than a two-tonne-plus behemoth. It also imparts a hewn-from-solid feeling, no doubt largely due to the immense torsional rigidity of the carbon chassis – the 50,000 Nm/degree figure quoted for it is allegedly in the same ballpark as Le Mans LPM1 cars.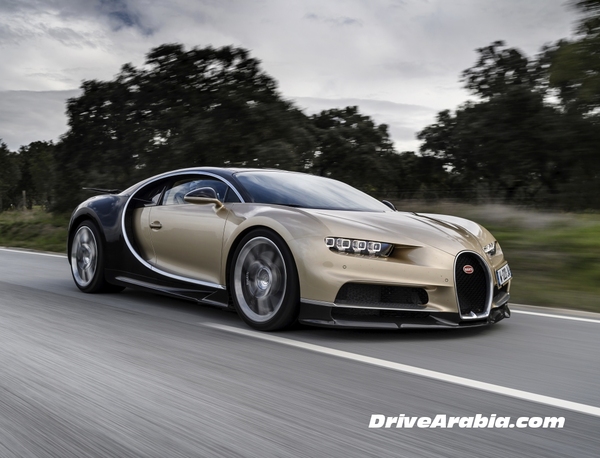 It's what the Chiron can do above 200kph that really separates it from the rest of the hypercar horde –- at least until the Mercedes-AMG Project One and Aston Martin Valkyrie surface.
Lesser offerings such as the Lamborghini Aventador S and imminent Ferrari 812 Superfast might be a tad more visceral, but they'd be reduced to mere dots in the Chiron's rear-view mirror under the right conditions. The Bugatti is also a more relaxing and supple-riding continent crosser or inner-city companion than the Latin duo.
The Chiron hasn't just much tossed the supercar rulebook out the window, it's ripped it to shreds and fired it into outer space. All that remains now is for Bugatti test driver Loris Bicocchi to have a crack at the 450 kph mark (obviously with the speed limiter disabled) at the Ehra-Lessien test track in Germany. That's the next item on the agenda…