Infiniti and Hyundai top in UAE customer service, according to J.D. Power survey
J.D. Power is well-known in the United States, offering up annual results for customer satisfaction and reliability surveys, although some say they should be taken with a pinch of salt. J.D. Power is now doing surveys in the UAE, and they've just released their 2018 UAE Customer Service Index (CSI) Study. And they have ranked non-luxury and luxury brands in terms of customer service.
J.D. Power says that vehicle owners' overall satisfaction with their servicing experience increases by 35 points (on a 1,000-point scale) when a service advisor is available to speak to the customer when they drop off their vehicle. Despite this finding, 35% of customers indicate that they spoke to a receptionist rather than a service advisor to discuss their servicing needs when visiting their dealer. Satisfaction amongst these customers is 50 points below the industry average.
Furthermore, satisfaction increases by 8 points when service advisors deliver the customer's vehicle back to them (72%) as opposed to another member of the staff after completion of the service or repair work (29%).
The following are additional key findings of the study:
Transport vehicle for drop-off: Nearly one-half (45%) of customers indicate that they needed transport for a drop-off when their vehicle was being serviced. However, 62% of vehicle owners at the service center did not receive transport, which lowers satisfaction by 17 points.
Personalised service experience: Overall satisfaction is 25 points above average amongst the 40% of customers who were offered valet parking. Similarly, amongst the 70% of customers who serviced their vehicle using quick/express service, satisfaction is 38 points higher than average. Additionally, satisfaction is 13 points higher amongst the 44% of customers who were told the name of their service mechanic than amongst those who were not given the name, underscoring the importance of service mechanics in the vehicle servicing experience.
Need to review and redefine the service appointment process: A greater proportion of customers who made an appointment for vehicle service say they had to wait to meet their service advisor, compared with those who dropped by for servicing (29% versus 19%, respectively). Furthermore, the amount of time taken to hand over the vehicle for service is also higher amongst customers who had a scheduled appointment, with 34% these customers having had to wait more than 15 minutes, compared with only 22% of those who dropped by.
Of the top five luxury brands, Infiniti ranks highest in satisfaction with dealer service with a score of 897, followed by Mercedes-Benz with a score of 862 and Lexus with a score of 858.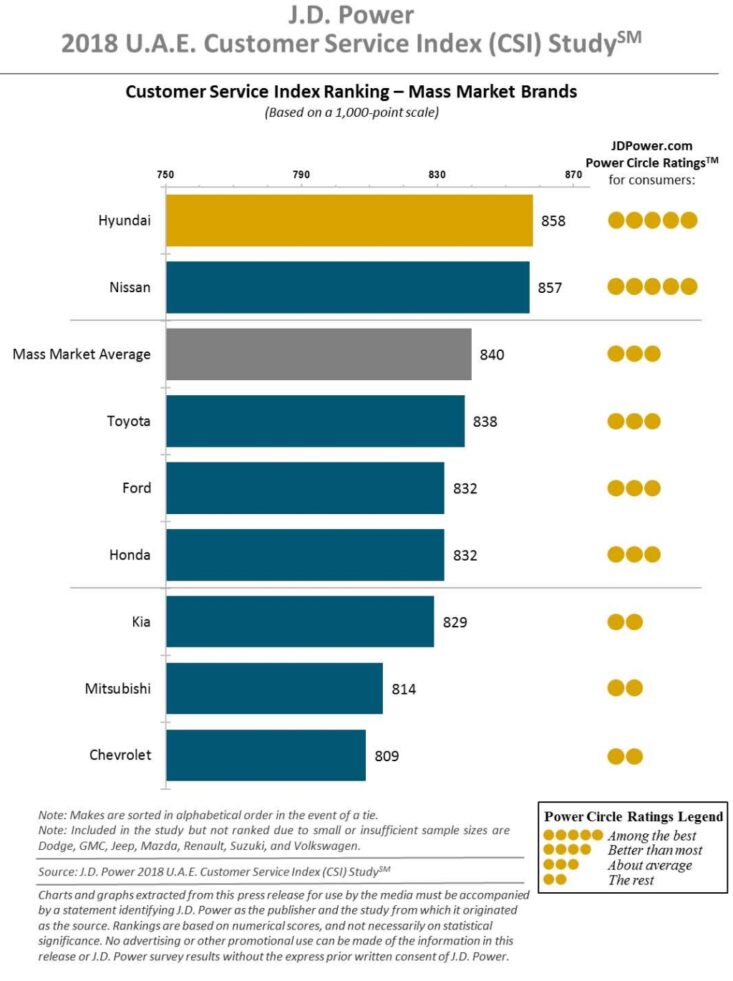 Of the eight mass-market brands, Hyundai ranks highest in satisfaction with dealer service with a score of 858. Nissan (857) ranks second, followed by Toyota (838) and Ford and Honda in a tie (832 each).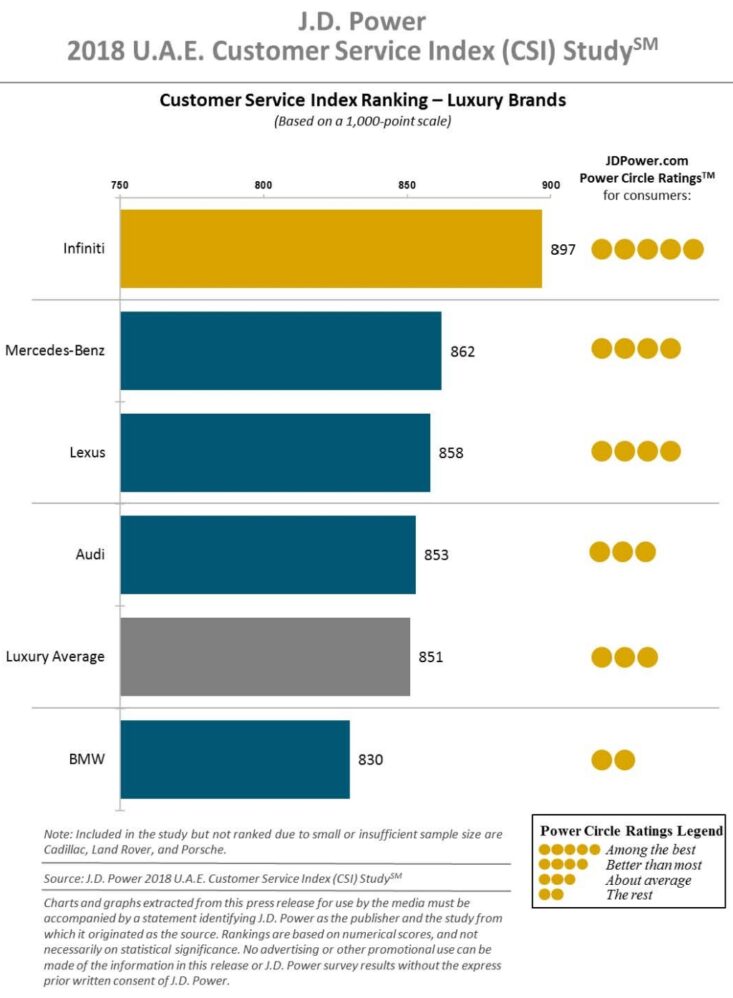 The 2018 UAE Customer Service Index (CSI) Study is based on responses from 2,806 owners who purchased their new vehicle between September 2015 and February 2017 and took their vehicle to an authorised dealership service centre between March 2017 and February 2018. The study was fielded from September 2017 to February 2018 in all emirates across the UAE.
The study measures customer satisfaction with service at an authorised service center for maintenance or repair work amongst owners of 12- to 24-month-old vehicles who visited the service centre in the past six months. The study measures overall satisfaction by examining five factors (listed in order of importance): service advisor (24%); service initiation (22%); vehicle pick-up (19%); service quality (19%); and service facility (17%).
Let us know if you agree with the survey findings. You can read our own first-hand customer-service experiences in the long-term reports section.