First drive: 2019 BMW X7 in Poland
BMW has been exceptionally proactive over the past decade in fattening up its model line-up with a dizzying array of coupe-wannabe SUVs, chop-top sedans, 'Active Tourers', M-tweaked road rockets and electrified vehicles. Yet, it's taken until now for the Bavarian marque to dip its toes in the potentially lucrative luxo seven-seater SUV segment.
The all-new X7 – which has just launched locally – sits at the top of BMW's SUV pyramid and will take the fight to the likes of the recently updated Mercedes-Benz GLS, Audi Q7, Lexus LX570, Infiniti QX80, Cadillac Escalade…and potentially even the Range Rover Sport, which is offered with a tight 5+2 seating format.
A big chunk of the new BeeEm's sales volume is expected to come from the US and China, but even our region has a high take-up rate (in percentage terms) of leather-lined behemoths with seating for seven. Locally, the segment is dominated by the Lexus LX570, but the X7 offers arguably the most sophisticated package to date in the category as it's underpinned by a newly developed platform (dubbed CLAR, and also used by the latest-gen X3, X4 and X5) and is loaded with a barrage of safety systems.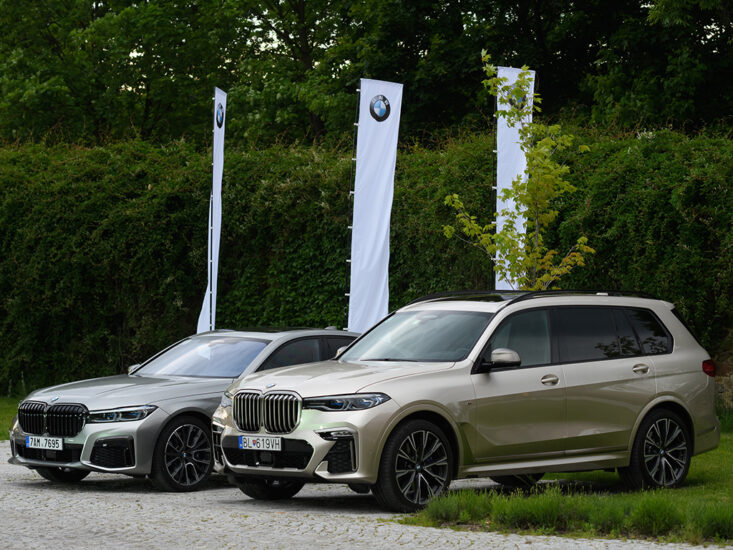 It may not be as gargantuan as the Escalade (which deserves its own postcode), but the X7 is still a sizeable vehicle, measuring 5,151mm from bumper to bumper, and 2,000mm across the bows. This means it's a genuine seven-seater, rather than a chariot that accommodates only pint-sized occupants in the third-row chairs.
The X7's powertrain line-up is spearheaded by a 4.4-litre twin-turbo V8, which in the xDrive50i pushes out robust outputs of 462 hp and 650 Nm. However, for our maiden road trip across Poland and the Czech Republic, we selected the 40i, which is likely to be the volume seller in our region. This variant is no slouch either, as its 3.0-litre inline turbo six ekes out 340 hp at 5,500 rpm and a beefy 450 Nm, on tap from 1,500 rpm all the way to 5,200 rpm.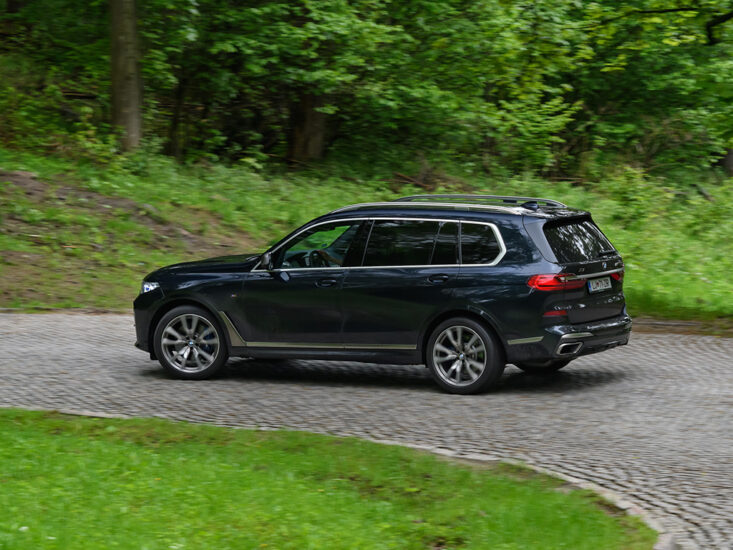 The twin-turbo V8 xDrive50i is obviously the more rapid of the two, but even the 40i is brisk enough, as reflected by a claimed 0-100 kph split of 6.1sec. All powertrains are hooked up the excellent ZF eight-speed auto, which has virtually become the default transmission for Euro luxo brands.
Retail pricing is listed at Dhs 496,000 (let's just call it half a million) for the xDrive40i, which means it commands a hefty premium over the LX570, QX80, Escalade et al.
The basic platform and drivetrains are common to both the X5 and X7, but the latter's differentiators include standard adaptive dampers and air suspension on front and rear axles. If you have especially deep pockets, you can tick the option boxes for active sway bars and four-wheel steering.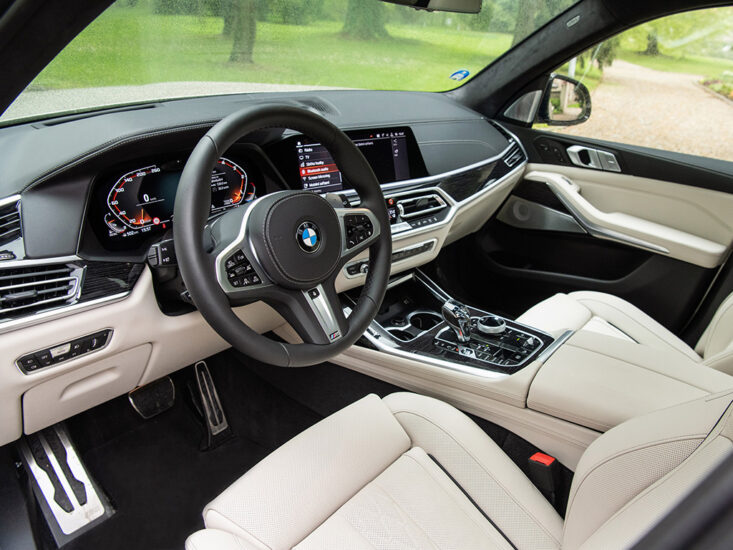 The cabin layout won't be unfamiliar to anyone who's sampled the latest X5, and there's again an emphasis on clean, uncluttered design, with buttons and switchgear kept to a minimum as most functions are controlled via the familiar iDrive rotary knob. It's occasionally an irritation to have to scroll through various menus to get what you want, but in its latest Version 7.0 guise the iDrive system is far more intuitive than earlier versions.
The X7's tech arsenal includes a raft of collision-prevention systems, and a host of optional semi-autonomous driving assists. There are even optional laser headlights that illuminate the road for 500m ahead.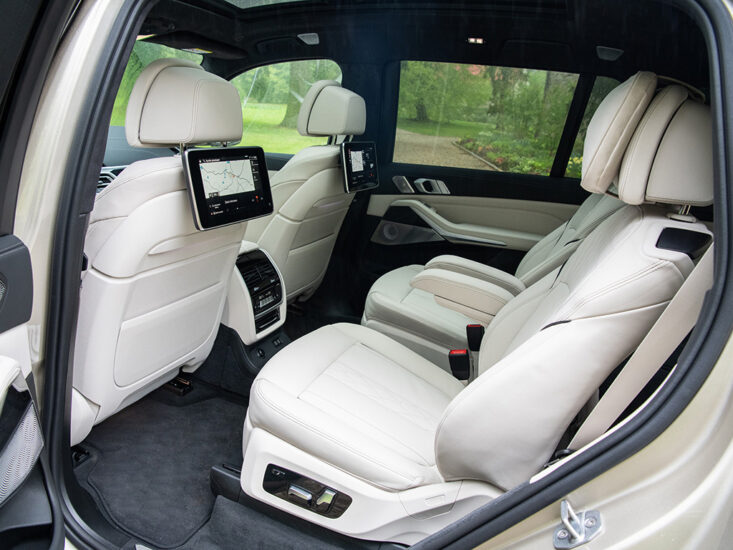 The X7 is about 230mm longer and 60mm taller than the X5, so it's no surprise it feels comparatively cavernous inside, especially with its full-length panoramic glass roof, which creates a great sense of airiness in the cabin. Less impressive is the fact you can stow only 326 litres of luggage if all three rows of seats are in use. However, folding down the third-row pews ramps stowage space up to 2,120 litres, so this is what you'd need to do if Ikea trips are on the agenda. There's the option of specifying a pair of captain's chairs (as opposed to a three-seat bench) for the middle row, and this format also makes access to the third row much easier.
On the whole, the interior gets a green tick – both in terms of its functionality and restrained elegance. However, it's fair to say the exterior styling treatment isn't an unadulterated success, mainly due to that humungous twin-nostril grille, which has been expanded to almost caricature-like proportions.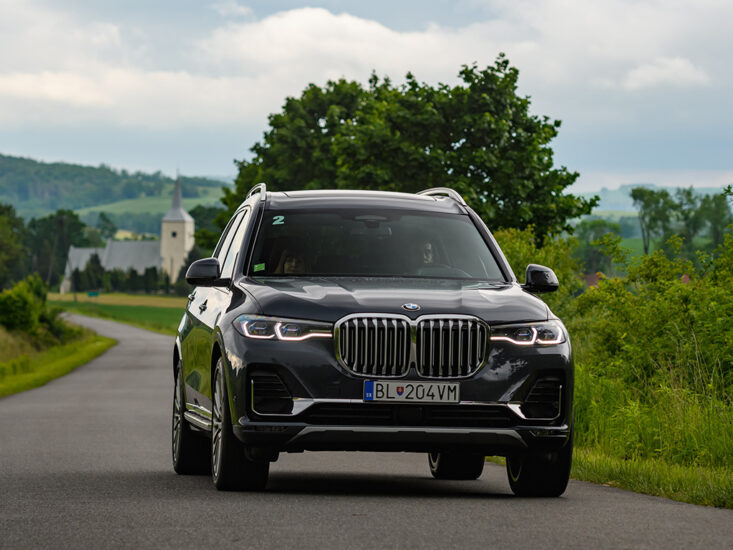 BMW design boss Adrian van Hooydonk told us at last November's Los Angeles Auto Show that the massive grilles worn by the X7 and facelifted 7 Series were conceived to give the cars more visual impact, as well as differentiating them from the rest of the BMW line-up. To my eye, the huge grille works better on the X7 than the 7 Series, as the SUV has much more frontal area in which to absorb it. The grille itself has active shutters, which means it remains sealed until engine temperature rises beyond a threshold, at which point the vanes open up.
It's fair to say the X7's face won't please everyone, but a BMW insider confided that several participants in clinics conducted during the vehicle's development phase suggested the grille should be even bigger than it is! Go figure…
The rest of the exterior styling is relatively non-controversial, although lacking the sporty dynamism of BMW's smaller SUVs. It has much a more upright profile than its siblings, and this is obviously in the interests of maximising headroom in all three rows. It's no classical beauty, yet the X7 has undisputed road presence and a beefy stance when you see it on the road.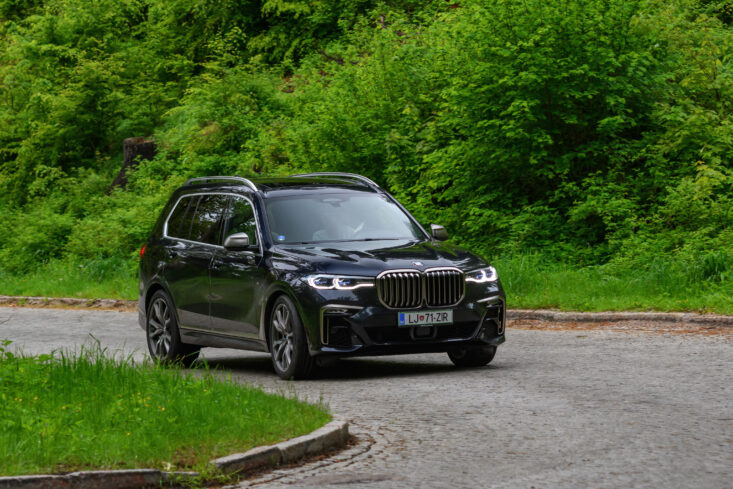 Our drive in the X7 took us from the Polish city of Wroclaw to the Czech capital of Prague, with the predominantly narrow, winding route including the famed '100 Curves Road' in the Klodzko Valley. This road runs for 23km between Radkow and Kudowa Zdroj, near the Czech border in south west Poland, and it certainly lives up to its name.
What became clear after tackling this stretch is that the X7 might not serve up the agility of a Porsche Cayenne, given that there's more than 2.5 tonnes of it, yet it's far nimbler and more dynamic than pretty much all its competitors in the seven-seater domain. It's also strong on refinement, with wind/road/engine noise well supressed and ride quality that – while not as cossetting as a Bentley – is still decently plush, even across lumpy cobbled roads. It's an enjoyable and relaxing vehicle to pedal for long distances, which meant I emerged reasonably refreshed even after covering 500km+ in challenging conditions (it poured for much of the drive).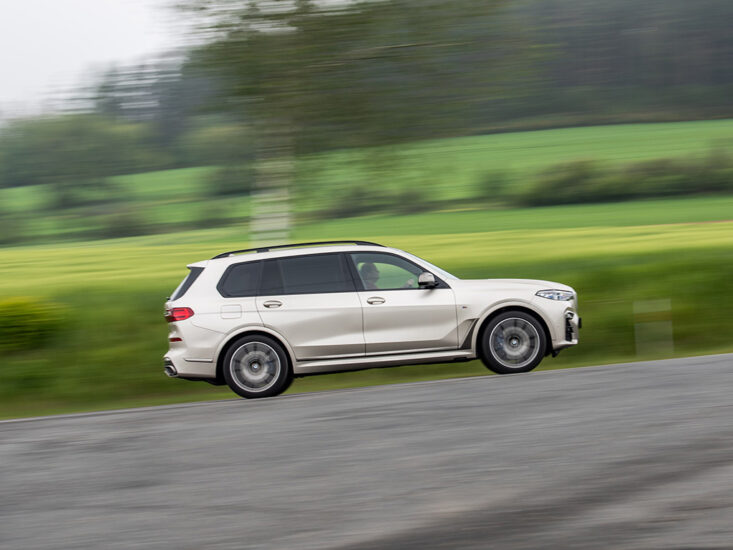 The X7's self-levelling air suspension offers a full 80mm of ride height adjustability, as it raises 40mm above the standard setting in off-road modes.
There's also a button in the luggage compartment that activates a loading mode whereby the car lowers by 40mm from the normal ride height, making it easier to heave heavy objects into the cargo bay. The two-piece tailgate is electrically activated, with the top section gliding up, while the lower half drops down. One advantage of this set-up is that you can pop open the tailgate even if you have a low garage roof.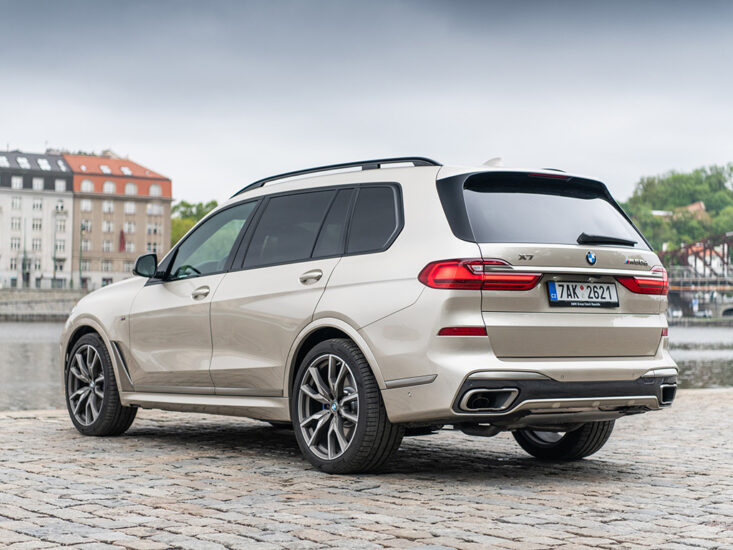 So, winning formula or an opportunistic attempt to exploit an untapped niche? As alluded to earlier, the frontal styling of the X7 may not be to everyone's tastes but, as an overall package, the big SUV (or SAV, for Sports Activity Vehicle in BMW-speak) delivers everything you'd expect of it. It's a brisk, quiet and comfortable people-hauler whose only real shortcoming is meagre luggage space when all seats are in place. The newcomer is no bargain-basement special, but you do get a lot of metal (and leather and wood) for your money.
For UAE/GCC prices and specs, visit the BMW buyer guide.
Photos by BMW.