First drive: 2020 Hyundai Sonata in South Korea
The midsize segment has always been a bit of a snooze-fest, but the offerings have become more interesting in recent times. Many brands now have great products with good design, luxury features and entertaining handling. But while some are giving up the niche in favour of crossover SUVs, Hyundai has doubled up with a new Sonata that seems to be pulling design ideas from the premium segment into the affordable mainstream. We were invited to South Korea for a week in which we got to take a spin in the all-new 2020 Sonata.
The new Sonata is a good-looking car, standing out with it's liftback-style design and unique design details such as the LED running lights that go halfway up the bonnet, and the full-length rear lights. Sure, it's not really a liftback (it has a conventional sedan bootlid) and not every part of it is flattering, but it's still quite the premium-looking car.
Interestingly, even while the Sonata shares its grille shape with the Hyundai Palisade, they look nothing alike, and Hyundai designer Simon Loasby said they will intentionally give each of their models a different style, so their cars will not look like cookie-cutter versions of each other in different sizes, like what many other carmakers do.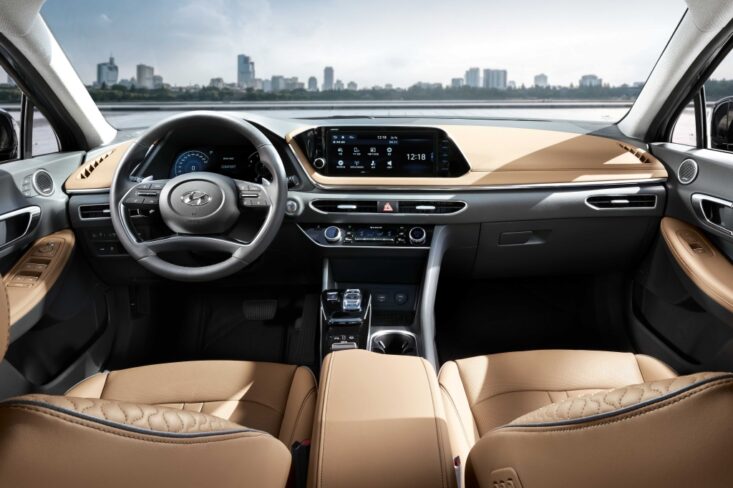 Inside, the premium theme continues with the colour choices, the good materials (such as stitched leatherette on the dash in top-spec models) and the up-to-date technology, all packaged in a minimalist cabin design with skinny a/c vents and a button-operated gear selector.
Space is good up front, and very good in the back, even with the sloping rear roofline. The boot is expectedly massive, and there are no shortage of cubbies and cup-holders.
Available tech features include a wireless phone charger, panoramic glass roof, 12-speaker Bose stereo, 12.3-inch instrument cluster display, 10.25-inch touchscreen with touch buttons along the sides, navigation, surround-view parking cameras, up to 9 airbags, cooled seats, heads-up display, and all sorts of active safety systems such as lane-keeping assist and adaptive cruise.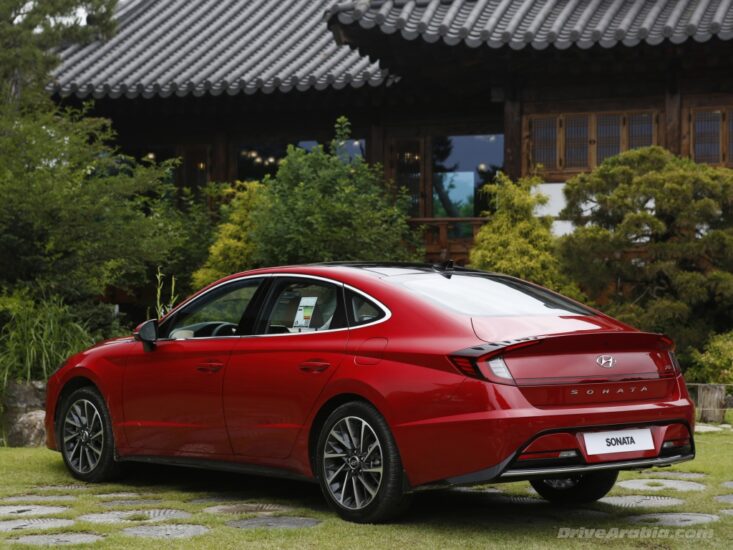 In top-spec form, the Sonata is not lacking a single piece of technology compared to its rivals, but offers even more, such as the blind-spot cameras on either side-mirror that display the images in the LCD gauge cluster itself based on which way you turn on the indicators.
Out on the road, we drove in a convoy so we didn't really push too hard during the cruise on the outskirts of Seoul towards the border with North Korea, aside from a single high-speed run that touched 170+ kph. For the Middle East market, the standard engine is a new 2.5-litre MPI 4-cylinder with 178 hp (180 PS) as well as 232 Nm of torque, mated to a 6-speed automatic. It's not the most inspiring motor to cane, and there is barely a few horses extra compared to the old 2.4-litre, but it will do the job on a standard commute.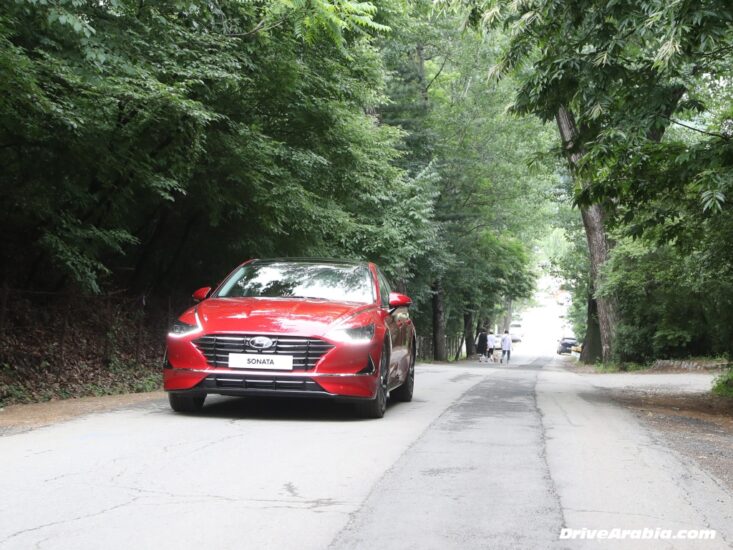 The ride is taut yet comfortable, which is no small feat with 18-inch alloys on the top-spec model, and reasonably quiet as well. With the adaptive cruise control, long-distance drives are a breeze.
And based on what few low-speed corners we took, the suspension keeps things stable, but the car isn't much fun to pilot on account of the light steering with no feedback whatsoever, and the generally casual way in which the transmission responds to inputs. There is a sportier turbo model coming in the future though.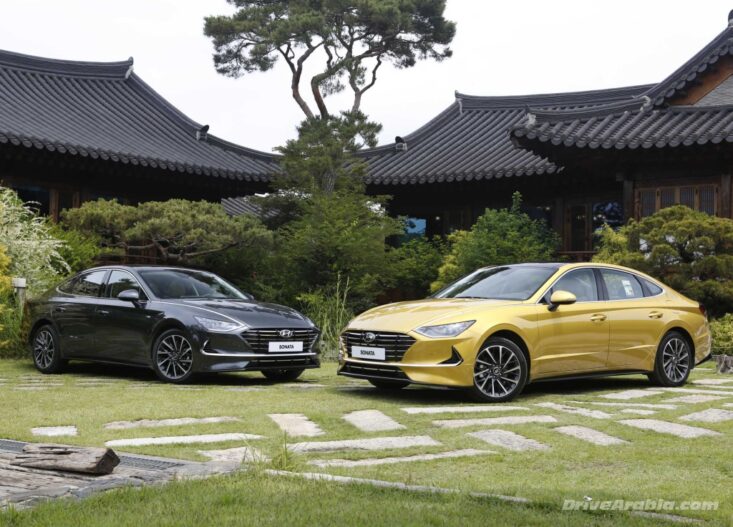 Yet again, Hyundai is going to turn the mainstream segment on its head by bringing a premium-looking product within reach of mass-market consumers. Unfortunately what the Sonata still lacks is the fun-to-drive factor that most of the other brands seems to have mastered over the years, but last we checked, that never mattered to the average sedan consumer who prioritise a comfortable ride and the latest tech features at an ideal price.
For a future update on UAE prices and specs, visit the Hyundai buyer guide.
Photos by Mashfique H. Chowdhury and Hyundai.