Electric Mercedes-Benz S-Class previewed with Vision EQS concept
Electrification was the overriding theme at this year's Frankfurt motor show, and virtually every brand represented (there were far fewer this year) headlined their presentation with one or more battery-powered offerings.
Mercedes-Benz was one of the leading lights on this front, with its swoopy Vision EQS concept providing a glimpse of how an electrified S-Class could look in a few years. The futuristic design study isn't just a pie-in-the-sky exercise, as it's underpinned by a new modular EV architecture that will underpin all of Merc's upcoming battery-powered offerings as it can be scaled up or down in all key dimensions.
The EQS's skateboard-like chassis maximises the packaging benefits of an electric powertrain, with the bulky lithium-ion battery pack tucked away under the passenger cell, lowering the centre of gravity and maximising safety.
As is the case with all current Mercs, the vehicle structure is based on a multi-material mix of steel, aluminium and carbonfibre, plus sustainable materials made from recyclates. The company says this optimally meets the requirements with respect to lightweight design, strength, cost efficiency and sustainability.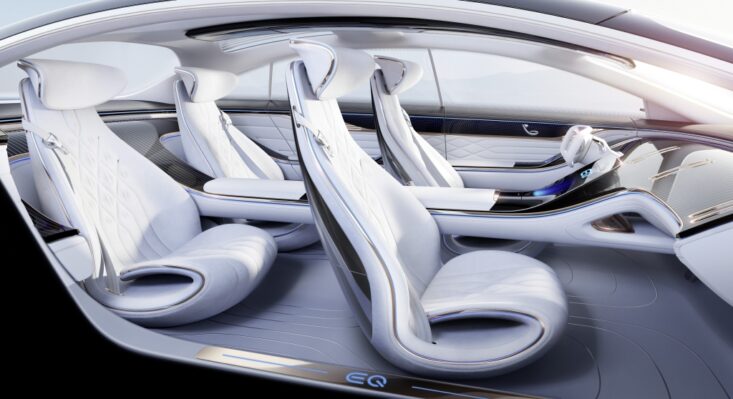 The fact there's no combustion engine up front has enabled the Mercedes stylists to pen a cab-forward design, which should make for an immensely roomy cabin. Jaguar has done much the same with its mould-breaking i-Pace, whose lengthy wheelbase within compact overall dimensions gives it a Tardis-like interior.
The EQS features a pair of electric motors – one each for the front and rear axles – and their combined outputs of 350kW (476hp) enable the big sedan to sprint from 0-100kph in under 4.5sec, according to the company.
Mercedes further claims that the EQS's fully variable torque distribution system leverages the instant torque of the electric motors to deliver class-leading handling characteristics. Efficiency is also said to be a strong suit, with a quoted touring range of up to 700km.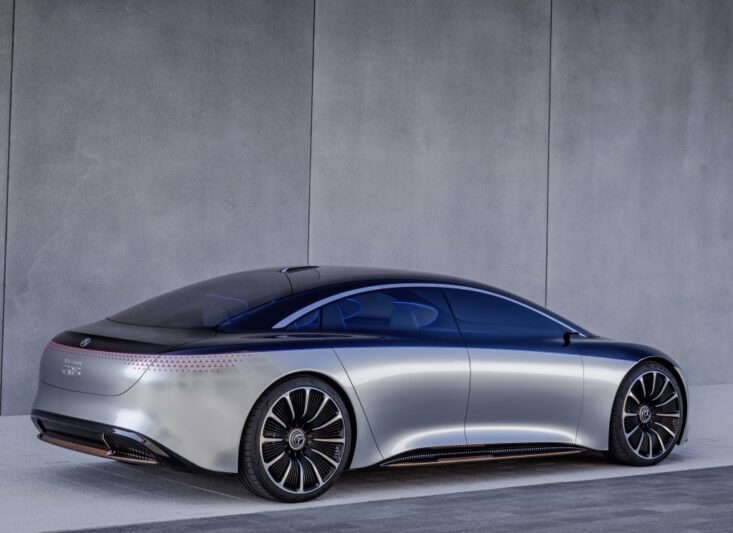 Another area where the EQS makes a big step forward from the existing EQC – the first member of the blossoming EQ family – is in that it can be charged to 80 per cent capacity in less than 20 minutes, which is less than half the time taken by the latter.
Naturally, autonomous driving is also on the menu, with the EQS said to offer Level 3 capability, which means the car can drive itself in certain conditions – such as on motorways with clear lane markings. Mercedes says the modular sensor systems will enable the level of autonomy to be extended up to fully automated driving in the future.
Mercedes also used the Frankfurt show to outline its 'Ambition 2039' initiative, in which the company aims to have a carbon-neutral new passenger car fleet over the next 20 years. As an interim target, Mercedes says plug-in hybrids and full-electric vehicles will account for more than 50 per cent of its sales mix by 2030.
Although electrification is the primary focus for now, Mercedes-Benz's head of product group powertrain, Torsten Eder, told us at the Frankfurt show that the company is simultaneously pushing ahead with research and development of hydrogen-fuel-cell vehicles, as well as eFuels (fuels derived from organic sources such as plants and aquatic matter rather than fossils). Both these alternatives are billed as sustainable solutions that do far less damage to the environment.