First drive: 2022 Volkswagen Teramont Highline in the UAE
Given all the historically significant nameplates in VW's stable, the Teramont is a relatively new addition to the Volkswagen family, and their largest SUV model. Known as Atlas in the United States where it is built and manufactured, this vehicle originally debuted in 2018. Unmistakably sharing DNA with the Volkswagen family, both in terms of style and mechanicals, seems odd that it took so long for VW to jump into this segment.
We drove the Highline trim with the V6 motor. The curvy yet masculine lines of the updated exterior perfectly encompasses preferences of both genders, not to mention the desirable colour options available, such as the suave Tourmaline Blue Metalic.
The clean and minimalist interior feels a little empty at first. A few elements and details have a luxurious feel to them, such as the door inserts with contrast stitching, leather wrapped sports steering wheel, leather seats and brushed stainless steel pedals to name a few. However contradicting this is the general usage of plastic materials and faux textures on the dashboard and rotary dials. That being said, the overall look is uncluttered and given a chance, it can grow on you.
Key comfort features include a 10-way power leather seat adjustment with seat memory with a 2-way power driver seat lumbar support, leatherette trimmed multifunctional steering wheel, ventilated front seats, and the Climatronic auto a/c with 3 zones. What's more is that it has a great personalisation option to host 4 driver profiles that welcome you by name of profile/driver and store preferences for the climate control, mirror positioning, favourite radio stations and more for the convenience of the driver.
Better than the average when it comes to spaciousness in comparison to its competitors, this 3-row vehicle offers good legroom and then some. In our experience, this works well for a medium to large sized family with children requiring up to two 5-point car seats. Although the last row could cram in a few adults fairly easily, it would still be wise to host children back there. But we absolutely appreciated the numerous bottle and cup holders.
The 8 inch infotainment display is situated comfortably for users with short or long arms to work it without any hassles, although it is a fingerprint magnet. Cruising the roads with the Fender 12 speaker sound system added great ambience to our experience, as did the practicality of the wireless phone charging, with Apple CarPlay and Android Auto features.
The seatbelt gets a special shout out for how smooth it felt and on some occasions feeling like you didn't even have it on. As for the seats, as spacious and luxurious as they felt with its plush Vienna leather trimmings and such, personally it was hard to get over the fact that the edge of the seats felt firm and tough, giving us "ouchie" moments getting in and out of the car.
We planned a day trip to Jebel Jais, Ras Al Khaimah to experience a long drive with the SUV and discover how the Teramont coped with its environment and what we felt about it.
Getting a head start in the morning and having been a weekday we didn't come across traffic or encounter too many cars on the climb up to the top of the mountain which gave us enough opportunity to experience the drive how we hoped to.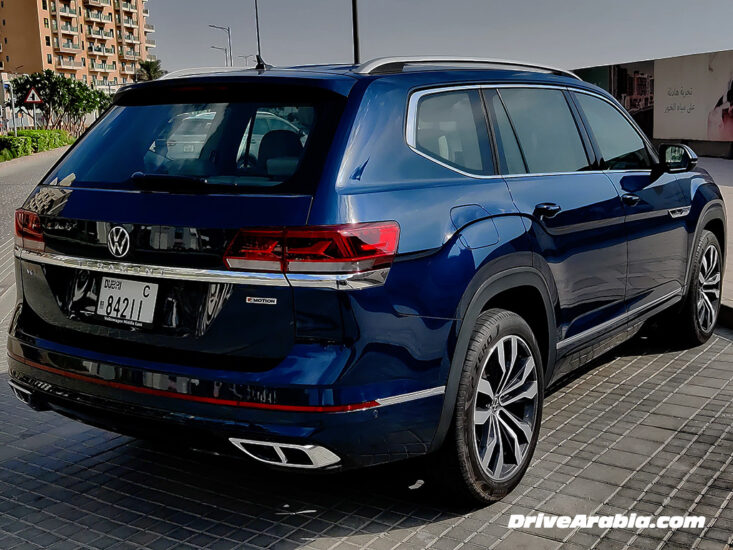 We tested some nifty features such as the adaptive cruise control with stop and go that allows you to set the distance of cars ahead of you, Blind Spot Detection with the front and rear park assist and the pedestrian monitoring function of this vehicle and found it very responsive and reliable rendering much to the comfort of the driver.
The Teramont Highline's 3.6-litre V6, which makes 280 hp with 360 Nm of torque, left us pleasantly surprised with adequate power and smooth power delivery.
Also smooth is the ride even on some really uneven bumpy roads. The drive was comfortable despite having been a 6-hour round trip and didn't leave us feeling tired or worn out.
The "4Motion" all-wheel-drive system allows the vehicle to be adjusted for different conditions. The drive modes start off on the street mode where you can select between four options – Eco, Normal Sport and Custom. Then you have other drive modes like Snow, Off-road Auto and Off-road Custom.
But we didn't stop there, the next destination was definitely a bigger challenge and an exciting one without an actual paved road involved. We hit the rocky terrain of Jebel Yanas in Ras al Khaimah.
Holding on to scepticism, as this SUV only has average ground clearance and not being a true offroading vehicle, we expected to face some challenges along the way.
We put the "Off-road auto mode" to the test and gained more control with the manual gear-shift feature as well as the hill-descent control that adjusts the brakes so you don't need to bear down on the brakes as much yourself.
We started our journey uphill, navigating through the bumpy and uneven gravel path, coming across ditches and steep cliff edges.
What was also interesting was that this was not all an uphill climb; there were sudden breaks in the path that led us downhill before the next ascent for which we switched to "Off-road custom" mode that helped by giving leeway in braking and accelerating on the descent.
The ride was consistently smooth and comfortable as this family bus was able to take on blows and cushion its cargo with ease, keeping us in one piece as we headed back to civilisation.
While the Teramont may have withstood the trials we put it through, its best not to push the vehicles with the extreme demands of offroading.
Picturing long drives and perfectly imperfect camping trips with the bunch, this 3-row 7-seater SUV has some clever and practical features that cater to the needs of creating some beautiful memories in the great outdoors and even finding its footing in the everyday mundane.
For UAE/GCC prices and specs, visit the VW buyer guide.