First drive: Mercedes-Benz Sprinter rips up racetrack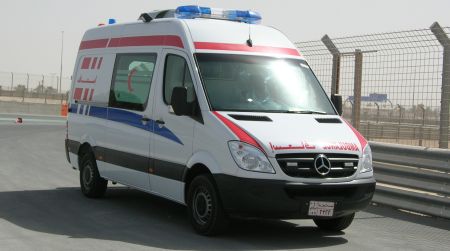 We never get any invites to Mercedes-Benz car launches, and haven't had any test-drive cars made available to us in years. However, their commercial vehicles division operates independently, and they invited us out-of-the-blue to the local launch of the Sprinter workvan. What caught our attention was the venue — Dubai Autodrome. We just had to go to this one.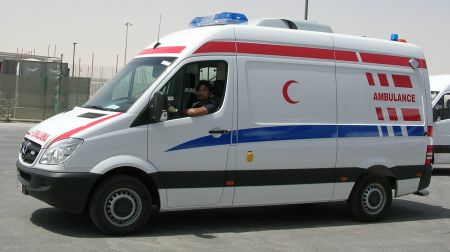 Showing up at the Race School, we realised we were there first among the journalists. Two or three showed up at the last minute, but most of the local media skipped the event. So we pretty much had extended access to what could be classed as the largest workvans in the market. We headed straight into the vans, one of which happened to be a fully-outfitted ambulance!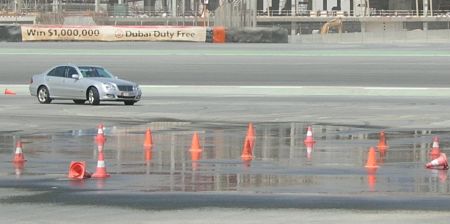 We followed a German driving specialist down to an open area, for a demonstration of the Sprinter's standard stability control, which takes load factors into account. An initial demo had us sitting shotgun as the pro took an E-Class through a wet patch and swerved suddenly to show what happens when stability control (ESP) is turned off, which led to some fun spins.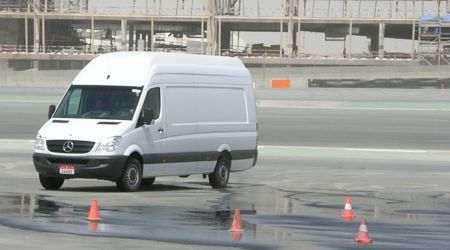 We then had the opportunity to personally try out the van through the same wet sudden-swerve manoeuvre, and to see first-hand how the van's ESP worked. It was the most fun we'd had in ages.
Imagine hurtling down a curve at 70 kph in a super-tall ambulance, and being asked to swerve around an obstacle on water without touching the brakes at all. Incidentally, we were the only ones to get it right every time, even though we did knock out one or two cones, which even the German pro did in his initial demo.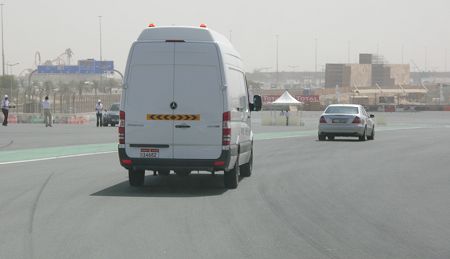 We also drove the vans, one in petrol-engined 5-speed automatic form, and another in diesel 6-speed manual form, around a track, following a Mercedes-Benz E-Class at moderately high speeds…for a van of course. We could've gone faster, but the other van in the convoy was falling behind. We enjoyed squealing tyres during turns on purpose whenever we could, but sadly, the lights and sirens on the ambulance were disconnected.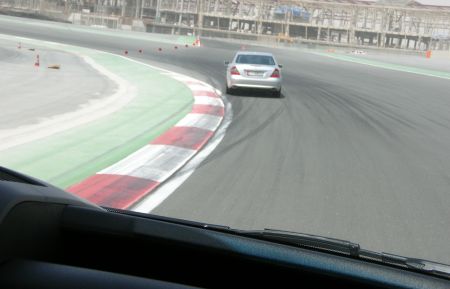 Throughout all this, we were easily impressed by the confidence-inspiring Sprinter. The standard ESP cuts the power and noticeably modulates the brakes, making the van understeer a bit, to prevent toppling over. While acceleration was obviously painful, the impressive bit was the 6-speed manual gearbox, with a super-smooth short-shifter and an accurate short-throw clutch, which felt even better to use than the gearbox in my BMW M Roadster.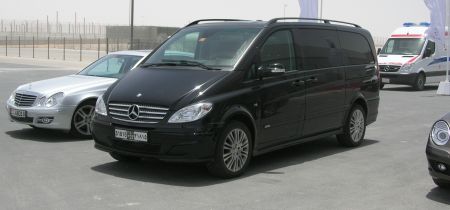 After the obligatory lunch, we even did a few conservative laps of the small track in a new Mercedes-Benz Viano X-clusive, a limited-edition luxury van that costs around Dhs 250,000, with a seating-and-table arrangement that allows four people to have a meeting in the super-quiet cabin.
Speaking of prices, the basic Sprinter comes in at a high Dhs 120,000 and goes beyond Dhs 200,000 for custom-specced models. It comes with a range of petrol and diesel engines, with three roof heights, various wheelbase lengths, and several body trims, including panel-van, pickup and crew-bus styles. Apparently, this German-built van holds three times as much cargo as a Nissan Urvan or Toyota Hiace, with standard safety features to boot, such as airbags, ESP and three-point seatbelts for all passengers, and with 40,000 km service intervals for the diesel models, it ends up offering reasonable overall value.